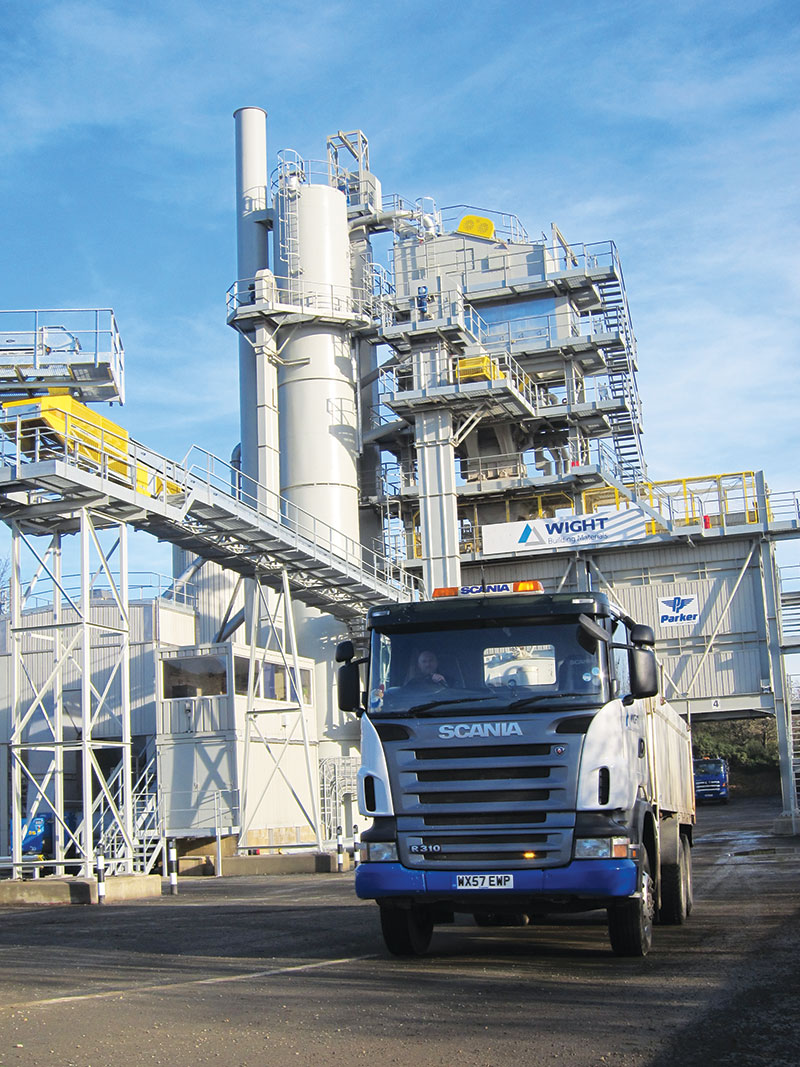 First published in the January 2015 issue of Quarry Management as The Wight Stuff
Wight Building Materials, a joint venture between Eurovia and Aggregate Industries, have become the first quarry operators in the UK to install a Parker StarMix 2000 high-level asphalt plant at their Blackwater site, on the Isle of Wight. QM spoke to Peter Gray, director of WBM, Patrick Riley, divisional director of Eurovia Roadstone, and Graeme Kirk, asphalt plant manager, about the key features of the new state-of-the-art, low-emissions plant
Formed in August 2013 through a collaboration between Eurovia and Aggregate Industries, Wight Building Materials are leading suppliers of asphalt, concrete and aggregate materials on the Isle of Wight, and will be instrumental in helping Island Roads deliver the region's 25-year Highways PFI project.
Nearly 500 miles of rural and urban roads will be upgraded, improved and maintained on the Isle of Wight. The Island Roads PFI contract is one of the largest infrastructure projects to be undertaken on the Island and, as major upgrading works are carried out in the first seven years of the project and maintained for the remaining 18 years, this will help to secure the long-term future of Blackwater Quarry and its 40 employees at St George's Down. It also allows Peter Gray, director of WBM, and Patrick Riley, divisional director of Eurovia Roadstone, to focus on investment in new high-performance asphalt technologies and recycling for the future. 
Last year, the company opened a new £3.5 million, state-of-the-art asphalt production facility at Blackwater Quarry.
'Supplying high-performance asphalt products for Island Roads is obviously very important to us, but as a sustainable building materials business we're also looking forward to producing asphalt and high-quality construction materials for a number of other major projects across the Island,' explained Mr Riley. 'Our aim is to continue operating beyond the PFI and well into the future, and I believe the new Parker asphalt plant gives us a great opportunity to service a full range of customers, particularly those who have strong environmental credentials.'
Indeed, the Parker StarMix 2000 high-level asphalt plant is capable of utilizing a high ratio of recycled materials, enhancing its efficiency, reducing operational costs and minimizing its carbon footprint.
Mr Gray added that it was imperative for Wight Building Materials to use a system in line with the company's ongoing policy of delivering good sustainable practice. 'We were looking for a modern plant that would provide high-thermal efficiency, low-energy consumption, reduced environmental emissions and long service life – and the StarMix 2000 ticked all those boxes,' he said. 'Importantly, there is a strong commitment on our part to ensure the products we provide are environmentally friendly. Sustainability is embedded across all our operations at Blackwater and the new Parker plant will allow us to further reduce the amount of material sent to landfill and cut carbon emissions through reduced road transport miles.'
Logistical challenges
Leicester-based Parker completed installation of the StarMix 2000 asphalt plant at Blackwater Quarry in May 2014. During installation Parker were presented with a number of challenges, as the location of the site posed certain logistical issues in terms of transportation of the plant, equipment and materials.
Avoiding expensive shutdowns and major loss in production were also critical factors. 'Being a significant component of the Island's transport infrastructure, it was important that the asphalt operations of the quarry remained fully operational throughout the duration of the project,' said Graeme Kirk, asphalt plant manager at Blackwater.
Replacing a Parker Blackmix 1500 unit supplied to Blackwater Quarry in 1986 and recently decommissioned after producing around 1.2 million tonnes of materials, it was decided by Wight Building Materials and Parker that the new StarMix plant would be a phased installation. 
'Having carefully identified the ongoing issues at the site through consultation with Parker, this was seen as the most efficient and cost-effective option to mitigate the impact on our normal business operations,' Mr Kirk added. 'While the new StarMix facility was being installed and commissioned, the old Blackmix plant was still operating and not a day's production was lost during the transfer of operation from the old plant to the new system.'
This major achievement was a necessity for Wight Building Materials as Blackwater is the only site to have an asphalt plant on the Island of Wight.
Another significant consideration for the business was the transportation method/delivery of the asphalt production facility. Wight Building Materials recognize the importance of reducing the environmental impact of road congestion and slow-moving traffic on the island. As the StarMix 2000 unit is of modular design, this allowed larger sections of the plant to be shipped in during the night and delivered to site before 7am, minimizing local traffic disruption on the Island.
The plant was specially designed to be installed on a restricted site with the cold-feed hoppers mounted at an elevated level on a bank, while the dryer, bag filter, mixing tower and mixed material silos are all mounted on the quarry floor. 
Designed to provide operational benefits and substantial cost savings, the StarMix 2000 plant produces a wide range of high-specification coated products, base/binder courses and surfacing materials, including hot-rolled asphalt. With a maximum rated capacity of 160 tonnes/h, the high-level mixing plant has provided Wight Building Materials with the capability to deliver larger production tonnages while maintaining the ability to meet flexible customer demands and operational efficiency.
Today, the asphalt operations of the business account for 70% of its annual turnover and, with increased levels of production geared towards highways construction projects on the Island, the high-volume plant will no doubt realign Wight Building Materials asphalt production processes with changing market requirements.
'The Parker kit at Blackwater Quarry is a crucial investment for us that complements our existing operations and marks an important step in the development of the company,' said Mr Riley.
'With Island Roads running since April 2013 and our waste-recycling business growing, we will be producing in excess of 110,000 tonnes of asphalt per annum, which is a substantial rise in asphalt activity, given that we were supplying around 35,000 tonnes a year when the joint venture started.'
High performance, low emissions
The new Parker production plant features eight 11.5m3  cold-feed hoppers fitted with 100mm grids and low-level indicators with visual alarms above each bin and an indication signal in the cabin.
A canopy is fitted to three sides of the feed hoppers with a roof for weather protection and to reduce airborne dust during plant feed. Mounted under each hopper is a 500mm x 1,800mm variable-speed belt feeder, featuring a 20:1 turndown-ratio and a starvation switch to indicate 'no flow'. To minimize sticking feed materials, the sand and dust hoppers are additionally equipped with vibrators and UHMW polyethylene liners.
The feeders discharge on to a 650mm wide horizontal collection conveyor, which, in turn, transfers on to a 650mm wide declined scalping screen feed conveyor. A 1m x 1.5m vibrating scalping screen removes +50mm material from the plant feed, while –50mm material is transported on to a reversible slinger conveyor which feeds the aggregates directly into the dryer.    
The 2.2m diameter x 8m long aggregate dryer drum features nylon support and thrust rollers that minimize wear on the roller paths and reduce operating noise levels. It is friction driven by four 15kW geared motors via soft starters.
Contributing to the increased service life of the Parker asphalt plant, the dryer is made from type P265GH boiler plate steel with Hardox lifters, while the complete top section of the bag filter and filter bag cages are made from stainless steel. 
Inside, the drum is fitted with a Vulcan multi-fuel burner (gas oil, natural gas, cracked fuel oil) which can run at variable speeds to attain the optimum air-to-fuel ratio. The burner incorporates a full range of operating and safety devices to deliver high-efficiency fuel usage, including an infrared pyrometer (located in the dryer discharge) that monitors the temperature and automatically controls the burner.
Mr Kirk believes these innovative measures embedded in the design of the StarMix 2000 plant have helped deliver significant cost savings and reduced energy consumption at Blackwater. 'The installation of the Vulcan burner has led to fuel consumption savings of around 35% and the decision to use recycled oil demonstrates our long-term commitment to reducing CO2 emissions,' he explained.
A hot-stone bucket elevator lifts hot aggregates into a 1.8m x 3.3m long six-deck vibrating screen that separates the feed into six grades, plus rejects. The plant's 2,250kg paddle mixer is driven by two 22kW geared motors with a timing shaft, while soft starters are utilized to reduce the starting current. Mixed material discharged from the mixer falls into a horizontal skip controlled by an inverter. There is also an 8-tonne direct lorry load-out hopper beneath the paddle mixer for small orders. 
The whole mixing tower is mounted over a 200-tonne mixed storage section, arranged into four 50-tonne silos. The plant is load-cell mounted to ensure accurate material loading into trucks. Bitumen is stored in three electric high thermal efficiency tanks. Each 94.4-tonne capacity unit is fitted with a stainless steel overflow/vent, radar-level indication and a control panel with contents gauge and light indicators for filling status. One of the bitumen tanks utilizes a motorized stirrer for agitating all types of modified bitumen.
Encouraging the local re-use of recycled materials is high on the agenda for Wight Building Materials and the StarMix 2000 plant offers increased asphalt recycling capacity. A RAP system is incorporated in the facility to deliver up to 20% recycled materials into the plant mixer. It comprises two steeply-angled, 12m3 capacity feed hoppers, fitted with 100mm grids.
The RAP is transported to a weigh feeder via a vertical elevator, and is then discharged into the paddle mixer. An automatic vent duct ensures rapid extraction of steam, caused when the RAP is added to the mix, from the mixer housing to the bag filter.    
The asphalt plant is controlled by a sophisticated computer system that displays all plant functions (eg automatic load-out to trucks from each of the mixed-material silos, concurrent weighing with top up, over/under weigh checking etc.). There is also an energy- consumption monitor to establish the kWh rating during plant operation. The IT system – which is housed in a new control cabin above the switch room – is modem linked and provides storage for up to 500 asphalt mix recipes.
Supporting the Island's infrastructure
Looking ahead, Peter Gray hopes to achieve major growth and can see further opportunities for Wight Building Materials. One of his key strategic objectives is to focus on strengthening the company's brand and product/service offerings on the Island.
'The economic climate in recent years has proven tough for many quarry operators, but we are beginning to see green shoots of a construction recovery across the Island,' he explained. 'It is important that we are able to understand and directly respond to the trends affecting supply and demand in the local market. And our growth strategy will focus on customer relations/opportunities and delivering sustainable solutions that will have a positive impact on the Island's infrastructure, with regard to efficiency, productivity, logistics and environmental performance.'
With many of its customers operating in a more sustainable manner, the company has seen a high level of demand for recycled aggregates and waste-management services on the Island. At the same time,
Wight Building Materials are constantly seeking the latest technological developments and enhancements, as demonstrated by the Parker StarMix plant to reduce their own energy usage, carbon footprint, and that of their customers.
Patrick Riley concluded: 'Sustainability has become a mainstream part of our production process and asphalt recycling itself is now a major growth area for the business. The StarMix plant has provided us with a significant improvement in productivity and operational flexibility in that we can now provide a full range of RAP content mixes catering for the varying individual needs of our clients.
'The Parker plant investment also demonstrates our commitment to helping customers meet their sustainability objectives, manage costs and understand the benefits of reusing high-quality recycled materials. We aim to be at the forefront of encouraging innovation and developing new environmental products and practices to create a more sustainable built environment for the Island's long-term future.'
Acknowledgement
The editor wishes to thank Wight Building Materials for permission to visit Blackwater Quarry and, in particular, Peter Gray, director of WBM and Patrick Riley, divisional director of Eurovia Roadstone, for their help in preparing this article.