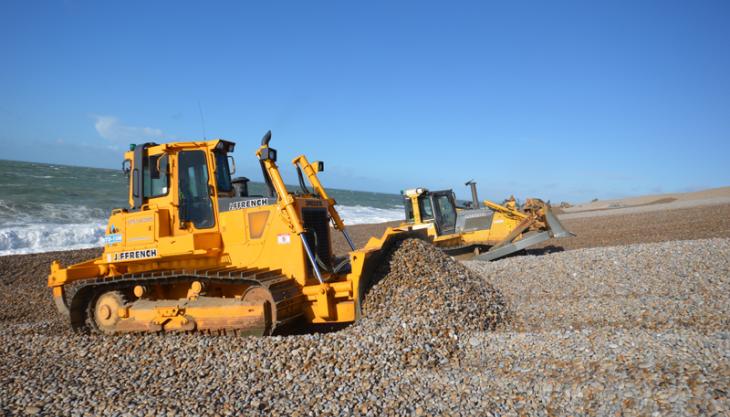 Newly arrived 20-tonne TD-15M Extra dozer helps out with flood-defence works on Chesil Beach
THE UK's first Dressta dozer has been deployed to the high-profile Chesil Beach flood-defence works near Portland, in Dorset, where it is operating as part of a fleet of machines working for the Environment Agency, in conjunction with military kit from the Royal Engineers.
The dozer was part of a recent large order received by Portsmouth-based Construction Plant & Machinery Sales for the supply of Chinese machines, including 20 LiuGong excavators, to J.Ffrench Plant Hire of Iver, in Buckinghamshire.
The Dressta TD-15M Extra dozer, which has an operating weight of 20,110kg and is powered by a 190hp six-cylinder Cummins QSC8.3 engine, has been engaged in pushing back an estimated 100,000 cubic metres of pebbles that have been washed back out to sea during the recent violent storms that have blighted the area.
The machine has been working in tandem with another larger dozer from the J.Ffrench Plant Hire fleet – a Komatsu D85PX – as they battle against Mother Nature during daylight hours in tough and challenging conditions.
This job is likely to be ongoing for some time, as one operator commented: 'We push the material up by day and in the morning half of it is washed out to sea again. It sometimes feels as if we are battling with God. It's a challenging job, but so far the Dressta has performed very well.'
Dressta, who have a factory in Poland, are now owned by LiuGong Machinery Corp, allowing LiuGong customers to source a complete package of machines from one dealer.