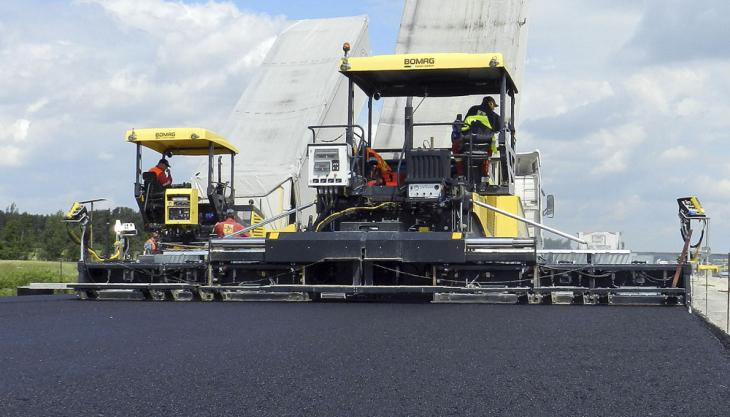 Hillhead 2012 will see the BOMAG BF 800 paver exhibited in the UK for the first time

With paving widths of 2.50m to 10m, the BF 800 paver is suitable for medium- to large-scale construction projects on major roads.

Of compact design, the paver provides several unique features and a performance to match. Available as a wheeled model or high-traction tracked unit, the BOMAG BF 800 paver is powered by a 139kW six-cylinder Deutz engine featuring low noise and exhaust emissions. The sophisticated ECOMODE engine-management system optimizes power to demand further reducing fuel consumption and exhaust emissions.

BOMAG cater for the operator with an intuitive control console that rotates and is equipped with new features to deal with the many demands of modern paving sites. The operator's platform features the patented SideView system. The seat and control console form an adjustable unit. To provide the operator with a perfect view of the site the operator's station is adjustable laterally, to an overhang of up to 600mm either side.

The screeds feature electric heating as standard. With optimized heat transfer, heat is evenly distributed throughout the screed plates and fast heat-up times are available with only 1,000 engine rev/min (idling) in the warm-up phase for paving widths of 6.0m and just 1,400 rev/min (ECOMODE) for widths over 6.0m. BOMAG screeds give paving thicknesses up to 300mm and crown adjustments of -2.5% to +4.5%. Generous smoothing plate depths of 400mm and an overall 4,200kg weight of the S 600 E basic screed give high-level pre-compaction and perfect surface finish with the tamper and vibration units.

In the UK, all BOMAG pavers are available, with a two-year parts and service warranty, exclusively from AP Pavers Sales (01530 516980).