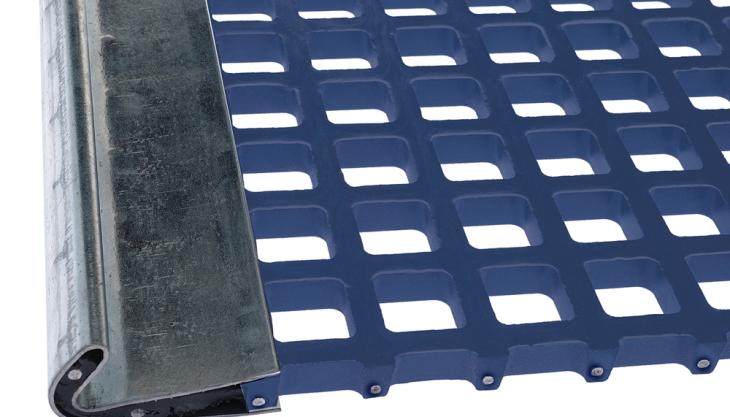 Alternative to traditional screen media offers benefits of polyurethane with woven wire cloth
COMBINING the durability and longevity of polyurethane composite with the greater open area and cost-effective characteristics of woven wire cloth, Ty-Wire screen media from Haver & Boecker is said to offer a highly efficient alternative to traditional screen media.
Featuring a special design that delivers as much as 80% more open area than modular polyurethane, Ty-Wire minimizes blinding and virtually eliminates pegging to increase screening efficiency and operational uptime.
The special hybrid design also reduces maintenance costs and enhances product longevity, especially in aggregates applications.
Because materials and applications vary greatly from one operation to another, 100% polyurethane or woven wire screen media are not necessarily always the ideal fit.
Characterized by resilient, low-maintenance qualities, polyurethane is a common screen media choice, but for many applications it can be more than what is required to screen effectively. A lower-cost option – woven wire – is productive, yet can fall short of yielding the longevity required in many applications.
Ty-Wire, on the other hand, blends polyurethane composite and woven wire into an affordable, practical option that is also designed to maximize screening efficiency and productivity.
Made with high-carbon woven wire encased with engineered polyurethane composite, Ty-Wire is designed to withstand high temperatures and tonnages, and is guaranteed to last at least four times longer than wire cloth.
Featuring a tapered opening design, Ty-Wire releases more near-sized material, allowing it to perform as a self-cleaning screen. The top of each opening is narrower than the bottom, preventing plugging of near and oversize material, a common effect of centerline sizing designs.
Moreover, Ty-Wire is compatible with any vibrating screen and requires no deck conversion before installation. It is available in both modular panels for a flat deck and hooked sections for a cambered deck, making it particularly well suited to the aggregates industry.
Whether screening wet or dry materials, Ty-Wire is effective in virtually any application. The screens are available with clear openings ranging from 3mm to 41mm, thicknesses from 8mm to 16mm, and an open area from 23.5% to 58.7%.