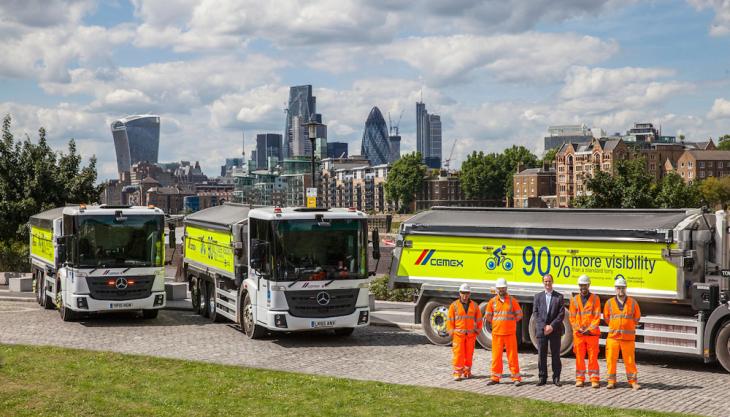 Company helping to protect cyclists, pedestrians and other vulnerable road users across Greater London
TWO more low-cab aggregate tippers have become part of CEMEX UK's London fleet of 33 tipper vehicles transporting aggregates from quarries and wharves to ready-mixed concrete plants and construction sites in and around the capital.
CEMEX, who were the first company in the country to own and operate an Econic low entry cab tipper, invested in their first vehicle because of the unparalleled visibility, which is increased by up to 90% over a standard tipper, and lower driving position, which allows eye-to-eye contact with cyclists.
According to the company, this increased visibility, together with other standard safety features, has done much to ensure that drivers can see cyclists and pedestrians and prevent incidents.
David Hart, UK supply chain director, commented: 'We're delighted to be expanding the number of low entry cab vehicles in our fleet. This type of vehicle is perfect for the urban environment with its busy roads, hence why our three low entry cab trucks are based in Greater London.'
However, Mr Hart pointed out that in more rural conditions the driving position and height above the road of a standard HGV often allows the driver to see traffic much further ahead and anticipate any problems.
'The low entry cab truck offers significant advantages in terms of ensuring vulnerable road users safety, and we would like to further increase the numbers of this type of vehicle CEMEX UK operate, including in our Readymix concrete operations,' said Mr Hart.
'However, the whole journey of the vehicle needs to be considered from the pick-up point on a CEMEX site to the delivery of the building material at the customer's location. Due to the design of the low cab truck, it requires the road and access surfaces to be relatively level and in reasonable condition, which is not always easy on construction sites.
'Therefore, we need the whole supply chain and the industry to be committed to enabling this type of vehicle to become the norm in the construction industry.'
CEMEX UK have also invested in a new video on the Econic low cab tipper and its features, highlighting to the audience the possible dangers around HGVs.
The video will be a focal point of an ongoing training programme for all CEMEX drivers, but it is hoped that cycling groups and other organizations will also use it to further educate their members. Watch the video.