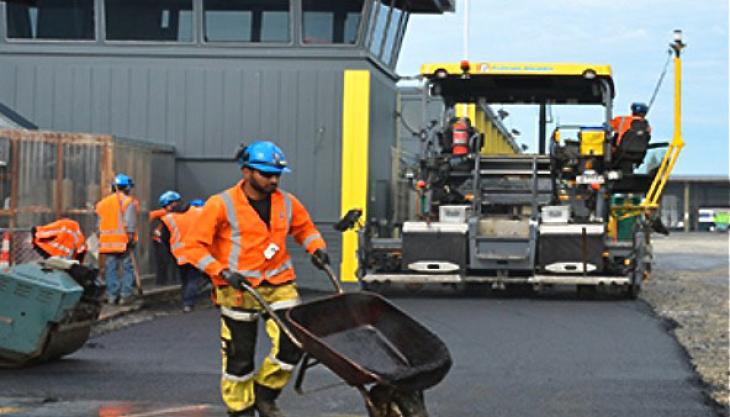 Fulton Hogan conduct large-scale trial at Christchurch Airport using 3,100 used plastic oil containers
FULTON Hogan, the New Zealand-based infrastructure, construction, and aggregate suppliers, in partnership with Christchurch International Airport, have recently conducted a large-scale trial of an asphalt mix made with recycled waste plastic incorporated into the bitumen binder of the asphalt.
Half of Christchurch Airport's fire station has been paved with PlastiPhalt, a proprietary asphaltic product developed and manufactured by Fulton Hogan. Made using 3,100 four-litre plastic oil containers that would previously have gone to landfill, approximately 250 tonnes of the PlastiPhalt material was laid. 
Fulton Hogan's national environmental and sustainability manager, Sophie Kennedy, said the trial was part of the company's ongoing drive to use sustainable practices in the manufacture of road and industrial pavement surfacings.
'This trial dovetails in nicely with Christchurch Airport's goal of being a sustainable and carbon-neutral business, and is a huge step towards our own goal of reducing plastic waste streams, internally and externally, by incorporating previously un-recyclable plastic into a quality, high-performing surfacing solution,' she explained.
PlastiPhalt is made with used oil containers collected through Fulton Hogan's Recovering Oil Saves the Environment (ROSE) scheme.
'Fulton Hogan collect around 2.5 million litres of used oil each year from businesses such as workshops and garages, and reuses this as an alternative fuel source. These containers could not previously be recycled due to the residual oil left on the inner surface,' said Ms Kennedy.
Fulton Hogan began trialling PlastiPhalt on a laboratory scale in 2014. It is made by shredding the used plastic containers and then granulating the shreds to an ideal size for incorporating into bitumen. The plastic is then blended into appropriately classed asphalt-grade bitumen.
The mix laid earlier this year has been specifically designed for heavy to extreme vehicle traffic loading, which makes it particularly relevant for airports and ports. Christchurch Airport came on board to help Fulton Hogan trial the innovative product in a safe location.
Christchurch Airport's general manager of strategy and sustainability, Rhys Boswell, described the trial is another aspect of the long-term partnership the airport company has had with Fulton Hogan.