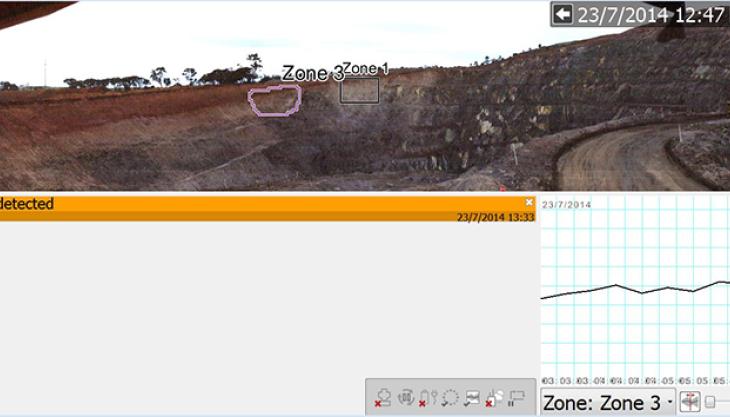 New system to monitor and report on site changes that could interrupt mining and quarrying activity
MAPTEK have announced the imminent launch of Maptek Sentry – a new system that will help mine and quarry site personnel keep track of surface changes.
'Sentry works with the I-Site 8820 laser scanner to monitor and report on movements that have the potential to interrupt mining activity,' said Maptek laser imaging solutions manager Athy Kalatzis.
Mining customers provided input and experience that helped enhance the Sentry system, which takes advantage of the latest sensor technologies in the I-Site 8820 laser scanner.
Sentry is said to offer significant advantages for monitoring low wall stability and is a cost-effective solution for acquiring fast and responsive surface change data over large areas.
'Ease of use is important for busy survey teams. Once the laser scanner is set up, an overview scan provides a starting point to establish multiple zones in an area of interest. The user controls monitoring frequency and site tolerances for notification alerts,' explained Mr Kalatzis.
Displacement, velocity and inverse velocity can be used to trigger notifications, which are automatically sent when network connections are available. A heat map provides an instant overview of surface movement in the selected area.
Sophisticated algorithms in Sentry decrease scan noise and improve accuracy. Sentry data is stored in a reduced format to allow for quick analysis and processing.
Time-lapse videos and other reporting outputs are easily created. The original laser scan data can be exported to Maptek I-Site Studio to calculate volumes, generate surface models and conduct geotechnical analysis.
'We've thought hard about operational workflows and the need for flexibility alongside a safe, remote-sensing solution,' said Mr Kalatzis.
'You can leave the Sentry laptop in the field and control the system remotely to set new zones for monitoring, or bring the data back to the office for further analysis and watch movement in real time.
'Sentry can be used to monitor multiple areas at specific intervals. Operations can also deploy the I-Site laser scanner for other site survey applications,' he concluded.
Maptek Sentry will be available from November 2014. It will complement the I-Site 8820 laser scanner and version 5.0 of I-Site Studio software, in Maptek's line-up of decision-support technology.