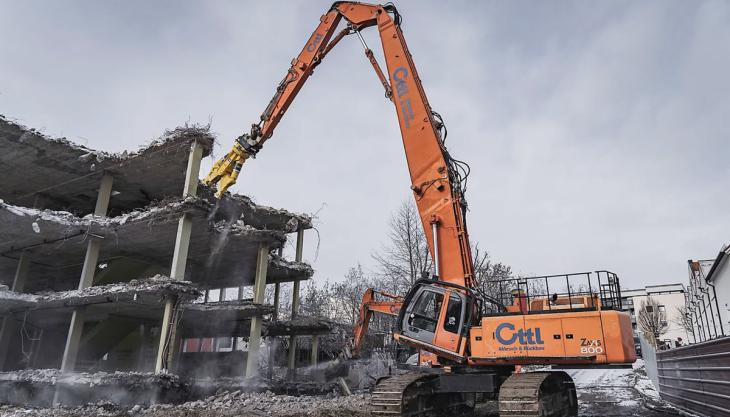 Ottl Abbruch & Rückbau GmbH make light work of dismantling old school building with CC 3700 combi-cutter
GERMAN contractors Ottl Abbruch & Rückbau have successfully demolished an old school building in the municipality of Taufkirchen, south of Munich, using a combination of Epiroc hydraulic breakers, multi grapples and concrete cutters, including the impressive CC 3700 attachment.  
Several aged school buildings dating back from the 1970s had to make room for a new build structure in the area and tasked with this job were Ottl Abbruch & Rückbau, who faced not only the decommissioning work, but also the associated challenges operating in the middle of a residential area, which required low-noise and low-vibration requirements. 
Working in close partnership with Epiroc, the demolition firm – over a period of nine months – dismantled more than 27,000 cubic metres of building space. Whilst the school buildings, gymnasium and assembly hall all featured the same design, the structures differed in height and roof construction type meaning that suitable specialist plant and equipment were required.
The main school building, at 18m high, consisted of a reinforced concrete skeleton construction with masonry infill. Choosing the best type of attachment for the job, of course, required careful consideration into the technology powering the attachment and the most effective pairing of the tool and carrier.
As a result, Ottl Abbruch & Rückbau and Epiroc decided that the best combination of equipment for the task at hand was a Hitachi ZX 800 long-front excavator equipped with a CC 3700 combi-cutter. With the attachment's modular design, easy maintenance and quick replacement of universal steel cutting and pulverizing jaws, the dismantlement of the main school building was completed without any complications. 
Other facilities on the former school site required different machinery and Epiroc attachment pairings. The former gymnasium, for example, was demolished by a tracked Hitachi ZX 300 excavator with CC 2500 combi-cutter and a Caterpillar 336 machine with CC 3300 cutter.   
Since the completion of the old school demolition contract, the CC 3700 demolition cutter, alongside the other attachments in the Epiroc portfolio, has won nothing but praise from Ottl Abbruch & Rückbau for its combination of high crushing force, short cycle times and assured reliability.