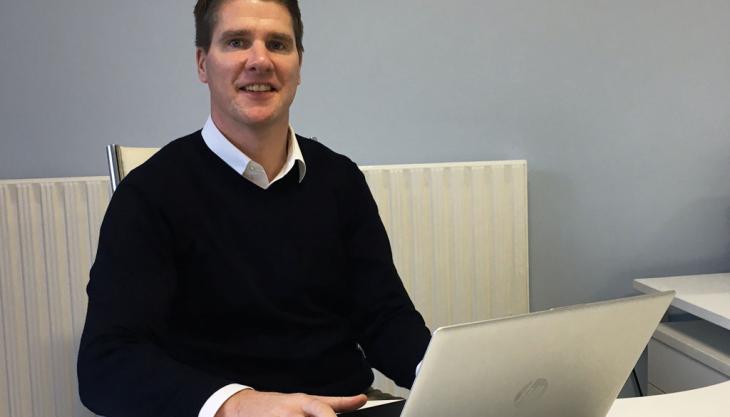 Company appoints general managers at Blue Spares, Blue Southern and Blue Scotland
BLUE Group have appointed Ian Webber, Stuart Hardiman and Iain Colquhoun as general manager at three of their divisions: Blue Spares, Blue Southern and Blue Scotland.
Recent investment at Blue Spares has been driven by Ian Webber, who formally took on the role of general manager on 1 November 2018. Mr Webber (pictured) joined Blue Spares as procurement director in July 2017, having worked at HSS Hire for 13 years in procurement and commercial roles.
In his new role, he plans to set the strategic direction for the Blue Spares division and provide day-to-day support for Blue Spares' management team. 
Mr Webber commented: 'The Spares division is vital for the Group's customer support; therefore, I will be looking to grow the business by attracting new customers and increasing the wallet share of our existing customers, whilst improving internal operations within the division.'
Meanwhile, having gained a wealth knowledge and experience as service manager at Blue Southern since 2014, Stuart Hardiman has been appointed as general manager of the division, effective 1 January 2019.
Mr Hardiman will work closely with Blue Southern's managing director, Brian Maxwell, and the southern sales team, to develop and implement strategic planning and long-term goals to meet growth objectives within Blue Southern. He will also direct and co-ordinate all divisional department activities, such as overseeing key projects and developing new products.  
Commenting on his appointment, Mr Hardiman said: 'For the short term, I plan to understand what's adding value to the business currently, and how the business can improve on delivering that added value. However, for the long term, a key focus for me is to raise the bar in terms of the level of service that we can offer our customers, as well as support new business opportunities.' 
In addition, Iain Colquhoun officially took up the role of general manager at Blue Scotland in December 2018, having previously worked in a number of senior management positions within a variety of industries, where he developed and implemented effective staff development plans.
Reporting directly to Blue Scotland's managing director, Austin Carey, Mr Colquhoun will be responsible for managing all day-to-day operations and providing leadership to the Blue Scotland team, with an initial focus on building and strengthening customer relationships. 
He said: 'I am thrilled to be joining Blue, having worked with them previously in my last role. I believe in their vision for the future and am excited about continuing to grow their operation in Scotland, whilst ensuring their customers receive high-quality service.'
Commenting on the new appointments, chief executive officer Adrian Murphy said: 'Iain is an excellent addition to the Group. His experience and knowledge in managing people will further the continued success within the company.
'With regard to Ian and Stuart, I am delighted that they have progressed through the company. Their industry, company and customer knowledge is second to none and essential for the growth of the two divisions.'