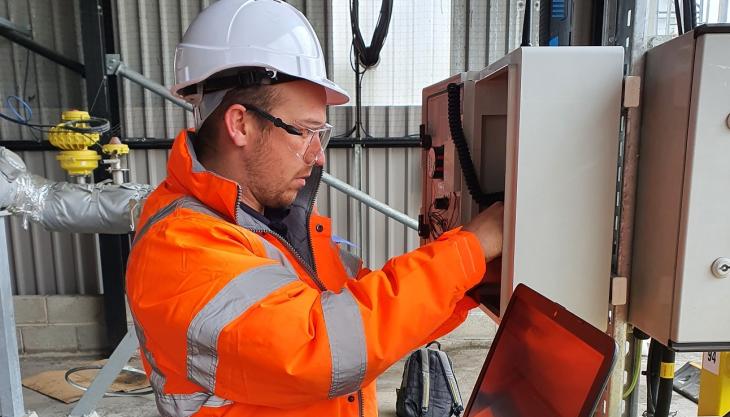 Radio system experts find perfect solution for UK bitumen supplier's two-way radio problem
AN engineered solution from TES Communication Solutions is helping Total UK Bitumen, a division of TotalEnergies, to improve operational efficiencies and reduce waste. The bitumen supplier was looking for a solution to help reduce the impact from hand-held two-way radios being damaged or lost while being used to load and unload vehicles at its UK headquarters in Preston.
Due to the high volume of loading taking place, up to 15 times per day at three separate loading points during peak activity, the hand-held radios were regularly being damaged, often beyond repair, costing time and money to source and replace. Despite the problem existing for many years, it was not until TES Communication Systems were contracted as a new radio supplier that a solution was found.
Having discussed the situation with Total and heard the thoughts of the team there, radio solutions experts at TES designed a two-way callbox that would allow for loading and unloading instructions to take place at a fixed location – eliminating the need for the hand-held radios which were being damaged.
The weatherproof callbox would also allow supervisors to liaise with multiple cabs at any one time from the central control room to the fixed boxes at the loading points, allowing for a more efficient process and helping the division to operate safely within an ATEX environment. A total of six callboxes have now been installed across the Preston site.
Rob Slater, production manager at Total UK Bitumen, said: 'The hand-held radios we relied on for loading were problematic as any lost or damaged devices needed to be replaced almost instantly so as not to impact on loading. We didn't have the time or expertise to solve the problems ourselves, so we relied on our radio suppliers to provide us with the best solutions.
'Within three months of working together, TES have managed to find this excellent solution to our problem. We have now signed a service agreement with them to manage our radio system for the next three years and hopefully longer. Since we started this partnership with TES, the level of service has been exceptional throughout with the lines of communication always open to discuss issues or solve problems.'
Steve Smith, managing director of TES, said: 'This challenge provided the opportunity to work with a valued customer, with whom we are keen to build a long-standing relationship, to create a solution to a problem which was previously costing both time and money.
'We were able to work alongside Total to find a solution which will reduce the need to replace damaged or broken hand-held radios and make the company's loading operations more efficient. It also gave our engineers the opportunity to come up with a bespoke solution which they developed as a team, and one which we believe will benefit many other industries.'