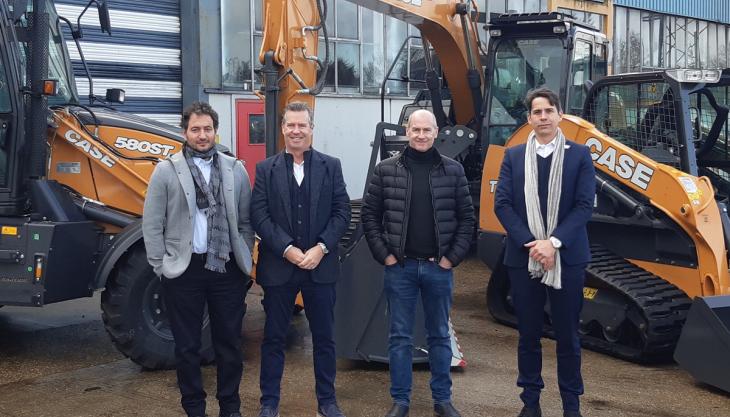 CASE dealers Warwick Ward expand their territory into London and the South East 
CASE Construction Equipment dealers Warwick Ward (Machinery) Ltd have expanded their territory to include London, East Anglia and the Home Counties.
This will combine with existing territories in the north of England and the Midlands to give the CASE dealer an area ranging from Yorkshire to Kent. As a result, Warwick Ward will become the largest independent CASE dealer in Europe.
'A territory expansion of this size is a hugely exciting opportunity for Warwick Ward,' said joint managing director Ashley Ward. 'It further strengthens our close and highly productive relationship with CASE and allows us to support their strategy for the dealer network.'
In order to facilitate the expansion, Warwick Ward will open a new depot in the South East, adding to the company's existing sites in Barnsley, Yorkshire, and Alcester, Warwickshire.
'The expansion of our CASE territory into the south of England fits perfectly with our continuing growth strategy. It reinforces our position as a 'one stop shop' for the construction, quarrying and recycling sectors,' continued Mr Ward.
'We are confident this will allow us to build on the market share gains we have made during our 14-year relationship with CASE.
'The third Warwick Ward location is crucial to this. We are currently looking at possible locations and plans are already in place for a significant recruitment drive. Building a strong sales, parts and service team is crucial and will enable us to deliver the focus required to support CASE's comprehensive range of aftercare solutions.
'Overall, the expansion leaves us in a very strong position to move forward and elevate the Warwick Ward brand to the next level. It also comes in the same year we celebrate our 50th anniversary and is an exciting start to a new decade.'
Anthony Bouvié, business director - Northern Europe with CASE Construction Equipment, said: 'Warwick Ward's expansion into these new territories is perfectly in line with CASE's plan for the European dealer network. A consolidated network of high-performing dealers is key to CASE's future growth, and decisions like this help us to execute this ambition.
'It is also a long-term extension of a highly successful existing partnership. We are delighted at the progress Warwick Ward have made as a CASE dealer and know they will embrace the challenge afforded by expanding into East Anglia, London and the Home Counties.'
Warwick Ward began operations in their new territories on 1 January 2020.