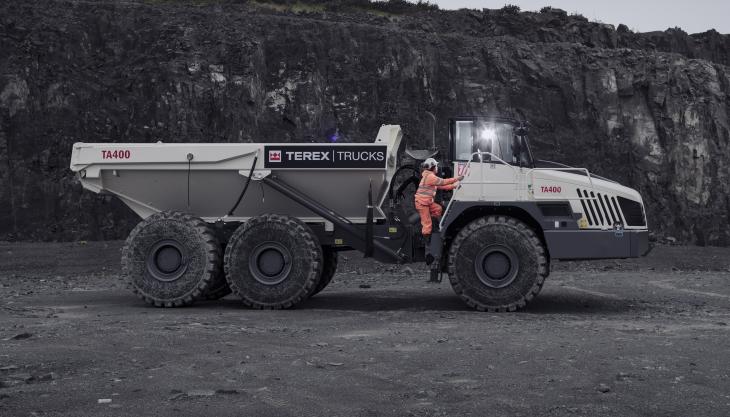 Scottish manufacturer seeking to reach customers in the far east and far north-west of the country
BENEFITTING from the current construction boom in Russia and, Terex Trucks, together with their exclusive dealer Mining Eurasia, are looking to bring their articulated haulers to even more customers in new locations across the country.
Covering a geographical area of 17.1 million sq km, Russia is the largest country in the world, and whilst it has not always been the richest, its economy is particularly strong at the moment.
In 2018, the Russian economy grew faster than it had done for more than five years – largely due to the upswing in construction. The Siberian natural gas pipeline project, major infrastructure renovation work and the 2018 World Cup all helped to create a boom in construction projects throughout the country.
Scottish articulated hauler manufacturers Terex Trucks say they have benefitted quite significantly from this boom and, choosing to strike while the iron is hot, want to expand their Russian footprint even further by reaching more customers in new locations.
'Russian customers are very cost conscious,' said John Rotherford, global key accounts director with Terex Trucks. 'That's why our TA400 articulated hauler does particularly well there, as it ensures low cost per tonne and maximum productivity. The TA300 is also popular among Russian customers as it's reliable and easy to operate. Both these factors help to drive the majority of purchasing decisions.
'Looking beyond products, one of the key things Terex Trucks offer that many manufacturers do not, is dedicated on-site maintenance and support services. This is especially valuable in Russia because the country is so vast, meaning that dealers' branches are often based hundreds of miles away from their customers.'
Earlier this year, Terex Trucks appointed Mining Eurasia as their official distributor of articulated haulers in the Russian Federation.
'Terex Trucks are very happy with their partnership with Mining Eurasia,' said Mr Rotherford. 'Going forward, the focus will be on growth and further development. Together with Mining Eurasia, we're keen to expand into the far east and the far north-west of the country.'
A popular choice in mines and quarries, the Terex Trucks TA300 is powered by a Scania DC9 engine and has a maximum payload of 28 tonnes, maximum torque of 1,880Nm and can achieve gross power of 276kW (370hp). The truck is equipped with true independent front suspension as standard, resulting in superior traction control and operator comfort.
Since August last year, the TA300 has incorporated the new EP320 transmission as standard, which helps to deliver a 5% improvement in fuel efficiency as well as enhanced performance. The upgraded transmission comes with two additional forward gears – eight in total – as well as four reverse gears. This helps to ensure smoother gear shifting and, thereby, greater operator comfort.
The TA400, the largest articulated hauler on offer from Terex Trucks, has a maximum payload of 38 tonnes and a heaped capacity of 23.3 cubic metres. The Allison HD4560 transmission uses high-performance oil and delivers up to 6,000 hours between services.
Both machines come with hydrostatic power steering and all-hydraulic braking systems, helping to ensure a safe and comfortable ride.