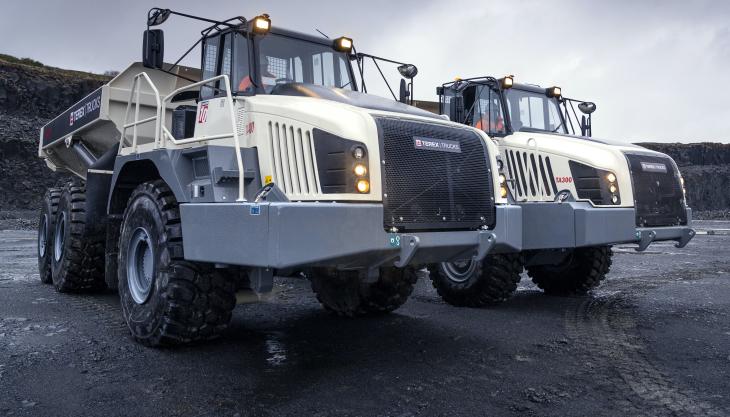 TA300 and TA400 articulated haulers updated with new Stage V-compliant Scania engines
TEREX Trucks have updated their TA300 and TA400 articulated haulers with EU Stage V-compliant engines that  boast a reduction of up to 7% in fuel consumption compared with the previous Stage IV versions.
Equipped with a variable geometry turbo (VGT), the new Stage V engines allow for faster response at all engine speeds and an efficient combustion performance, helping to improve efficiency while keeping the total cost of ownership low.
The Stage V engines use selective catalytic reduction (SCR) aftertreatment technology, removing the need for exhaust gas recirculation (EGR). No exhaust gas is returned to the combustion chamber of the engine, helping to improve efficiency and durability of the machine, whilst the diesel oxidation catalyst (DOC) and a large-capacity diesel particulate filer (DPF) ensure the engine meets the latest EU emission standards.
'Introducing Stage V-compliant engines for the TA300 and TA400 is part of our focus on delivering efficient, productive, high-quality and durable articulated haulers, while keeping the total cost of ownership down,' commented Kenny Price, regional sales manager for EMEA at Terex Trucks.
As with Terex Trucks' Stage IV haulers, the new Stage V TA300 and TA400 are equipped with Scania DC9 and DC13 engines, respectively, and thanks to a drivetrain that is perfectly matched with the engine, the trucks are said to deliver a powerful performance and excel in demanding work environments.
The new Stage V TA300 and TA400 engines are linked to Terex Trucks' Haul Track telematics system, which offers complete visibility and control of the haulers. Customers can access machine GPS location and tracking together with a range of downloadable daily performance reports, such as machine hours worked, engine speed, idle time and system fault code alerts.
The first Stage V TA300 and TA400 are already rolling off the production line and will be delivered to customers in Europe from March. The new European Stage V system will complement the Tier 4 Final range of articulated haulers for the North American market and the Tier 2 range designed for non-regulated markets across the world.
Terex Trucks will be presenting their new EU Stage V-compliant dumptrucks at the Hillhead Digital exhibition from 30–31 March 2021.