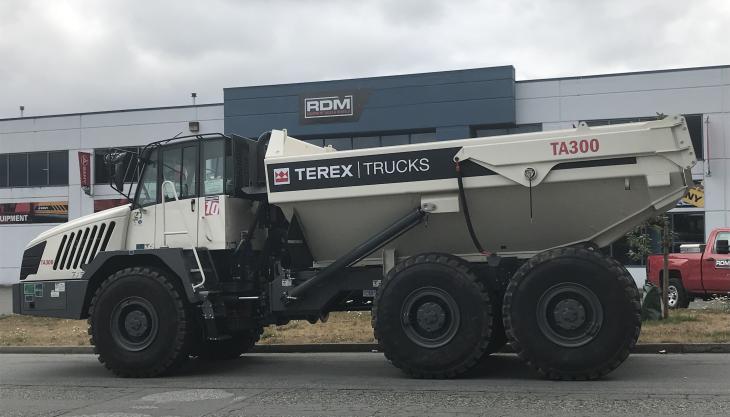 Articulated hauler manufacturer strengthens presence in British Columbia with new dealer appointment
TEREX Trucks have strengthened their presence in British Columbia (BC), the westernmost province of Canada, with the appointment of RDM Equipment Sales and Rentals as a new dealer.
The team behind RDM Equipment Sales and Rentals have plenty of experience in the industry, as company president Steve Madsen explained: 'Having previously been a construction contractor for the past 40 years, we knew there was a need to service the market with a large rental fleet and a quality range of products.
'We're striving to be the first choice in value-based heavy equipment solutions – and with the level of product quality you get from Terex Trucks, I'm confident we'll get there.'
The majority of RDM Equipment Sales and Rentals' customers are active in the mining, construction and landscaping segments. As a Terex Trucks dealer, RDM will sell, rent, service and provide parts for the TA300 and TA400 articulated haulers from their headquarters in Surrey, BC.
'We're really happy to be a Terex Trucks dealer,' continued Mr Madsen. 'The TA300 and TA400 articulated haulers fill a gap in our product line-up and will allow us to become an even stronger dealership. They are good quality products that are perfectly suited to the BC market.'
Greg Gerbus, regional sales manager at Terex Trucks, said: 'With RDM Equipment Sales and Rentals' extensive experience as a customer in this market, they know what good service looks like. They are a strong dealership who are keen to become even stronger, making them a valuable addition to our global dealer network.
'I think they will do very well now that the TA300 and TA400 are in their product portfolio, because a high proportion of their customers work in mines and on construction sites, which are precisely the kind of challenging applications our machines are designed for.'
The recently upgraded TA300 – which can haul 28 tonnes and has a heaped capacity of 17.5 cubic metres – now comes with the new ZF EP320 transmission, ensuring smoother gear shifting and a 5% improvement in fuel efficiency, as well as enhanced performance, productivity and operator comfort.
As a result of this product upgrade, the TA300 also now comes with long-life transmission fluid, increasing the length of time between oil maintenance intervals from 1,000 to 4,000 hours. Moreover, the TA300 also has true independent front suspension as standard, further enhancing operator comfort and ensuring excellent traction control and maximum productivity.
Terex Trucks articulated haulers have become firm favourites among customers working in mines, quarries and large-scale construction sites. The largest hauler in the company's product offering – the TA400 – is able to haul 38 tonnes, boasts a heaped capacity of 23.3 cubic metres and is powered by a Scania DC13 engine.
It is fitted with an Allison HD4560 transmission, high-performance oil and offers up to 6,000 hours between service intervals. The heavyweight TA400 hauler is designed to deliver maximum traction and an effective power-to-weight ratio, to ensure material is moved quickly and efficiently at minimal cost.