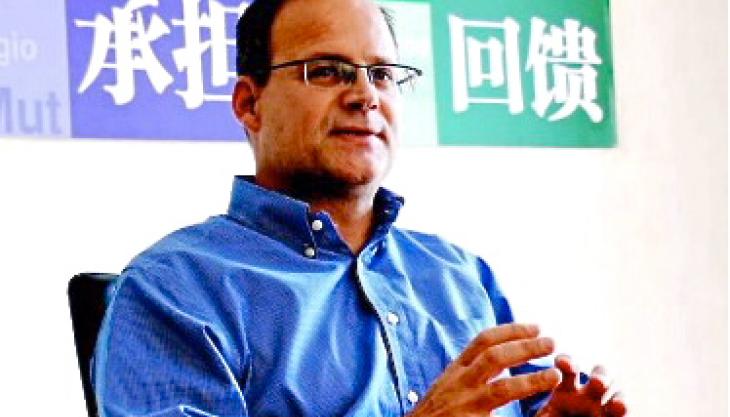 Ken Lousberg to take over as president of Terex Cranes ahead of planned merger with Konecranes
TEREX Corp., who last week announced their intention to merge with Konecranes to become a global leader in lifting and material handling solutions, have today announced the following senior executive changes:
Tim Ford, currently president of Terex Cranes, is leaving the company to pursue other opportunities.
Ken Lousberg, currently president of Terex China, will take on the role of president of Terex Cranes as well as the responsibility for Latin America previously held by Mr Ford. While Mr Lousberg (pictured) will retain overall responsibility for China, a country leader for the Chinese business will be named as soon as possible. Mr Lousberg joined Terex through the Genie acquisition in 2002 and has held several senior management positions at various Terex operations.
George Ellis will take on a new role as senior vice-president of operations planning and president of Terex Construction. In addition to retaining his current responsibilities for Terex Construction, government programmes and India, Mr Ellis will assume global responsibility for Terex Business System, sourcing, transportation, logistics, and manufacturing footprint. Mr Ellis also joined Terex through the Genie acquisition in 2002 and has held several senior management positions at various Terex operations.
Scott Hensel, currently vice-president of Terex Services North America, has been named to the newly created position of vice-president and managing director of Terex Utilities and Services, reporting to Ken Lousberg. In this new role, in addition to his current responsibility for managing and growing the North American services business, Mr Hensel will also have management responsibility for the Terex Utilities business. Mr Hensel was previously a partner at McKinsey & Co. and joined Terex in 2014 to improve and grow the Terex Services North America business.
Kieran Hegarty, president of Terex Materials Processing, will assume management responsibility for the Terex Fuchs business, which will become part of the Terex Materials Processing segment.
Commenting on the changes, Terex chairman and chief executive officer Ron De Feo said: 'While we expect to achieve substantial synergies with the announced merger with Konecranes, as we think ahead and help position the company for the merger we must continue to organize the company and operate Terex in a way that is best for the business.
'We thank Tim Ford for his dedicated service and leadership within both the AWP segment and his current position with Terex Cranes, and wish him the best in his future endeavours.'
Commenting on the new assignment for Ken Lousberg, Mr De Feo continued: 'Ken is the right person to lead our efforts to continue to improve our global cranes business. He has previously served in multiple leadership roles within our cranes business and will be in an excellent position to start immediately with the important work of growing the business.
'Ken has demonstrated strong leadership skills during his tenure with Terex and I believe his increasing responsibilities will serve us and our customers well.'