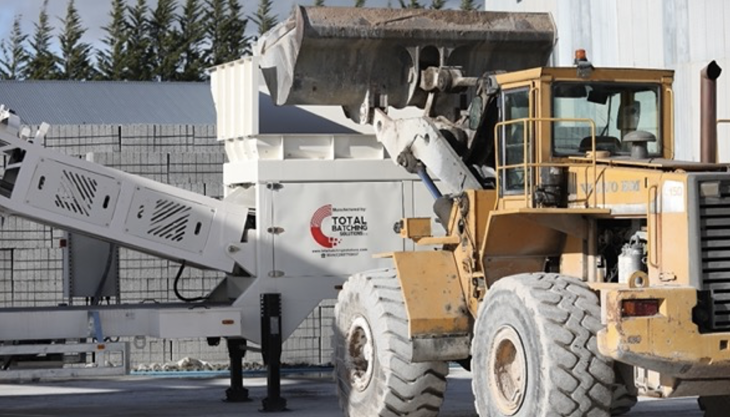 Total Batching Solutions introduce low-carbon, low-energy method of loading mobile batching plants
TOTAL Batching Solutions (TBS) have launched a new mobile loading hopper designed to feed aggregates into the storage bins or hoppers of a mobile concrete batching plant. According to TBS, this solution increases loading efficiency and cuts transport carbon emissions by up to 90% compared with other aggregate loading methods used today.
TBS business development manager David Carlisle explained: 'Addressing climate change, given the more regular extreme weather events we are now witnessing, is becoming ever more important. In our industry, transportation is one of the biggest emitters of carbon dioxide after cement production. When we examined how we could reduce carbon emissions in our Ultra Mobile concrete batching plant operations, one of the areas we identified was how mobile concrete batching plants are fed.'
A common method of feeding sand and aggregates into a mobile concrete batching plant is to use a loading ramp and wheel loader. Typically, up to 400 tonnes of aggregate material is required to build the loading ramp at the start of a new project. This material will then need to be removed at the end of the project. For delivery and disposal, this equates to 40 loads of material, using 20-tonne capacity trucks, for just one project.
'With our new mobile loading hopper, we have completely removed the need for loading ramps. This means less CO2 and a more efficient loading operation for our clients. Companies have been able to take 40 transport movements and 90% of CO2 emissions out of their concrete batching plant set-up,' continued Mr Carlisle.
According to TBS, there are also further benefits. Without a loading ramp, aggregate storage bays can be located directly beside the loading hopper, greatly reducing loading cycle times and the space required to operate the plant. Moreover, with shorter wheel loader travel times, reduced distance, and ground-level loading, significant savings can be gained from reduced fuel use and wear and tear on the wheel loader. Safety is also enhanced, as wheel loader drivers no longer need to load and carry up and down an incline.
Fully road mobile, the TBS mobile loading hopper features a range of slewing chutes and conveyors, allowing up to five aggregate storage bins or hoppers to be accurately fed from the safety of the wheel loader cab. Set-up time for the complete mobile batching plant operation, including the mobile loading hopper, TBS Ultra Mobile concrete batching plant, and powder silos, is just 180 minutes from arrival on site.
The TBS mobile loading hopper, in line with the Ultra Mobile concrete batching plant and silos, can be powered by a diesel generator or via a mains electric supply.