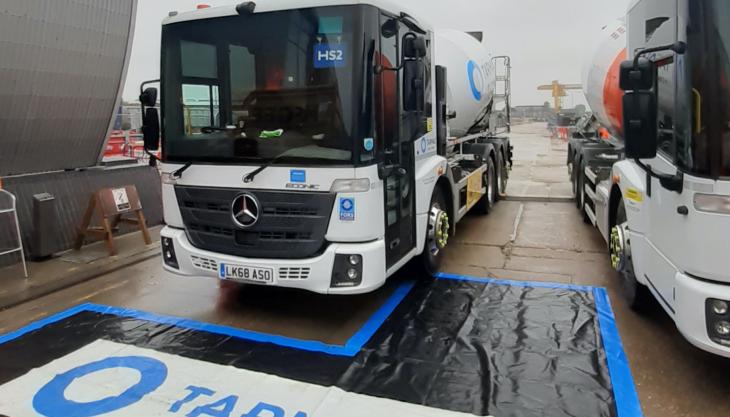 Company teams up with supply chain partners to share best practice at HGV road safety event
SENIOR leaders from across the construction industry, including Tarmac, joined forces this week for an event focusing on road safety and logistics innovation.
Supported by Tarmac and their industry partners, the event formed part of a 'Project Edward' road safety campaign and week of action – backed by the Government, the emergency services, highways agencies, road safety bodies and UK businesses.
Under the 2021 theme of 'Fit for the Road', the Project Edward (Every Day Without A Road Death) campaign is managed by the Association for Road Risk Management (ARRM) and RoadSafe and aims to showcase some of the best work being done nationwide to accelerate safe vehicles and safe road use.
The recent event saw members of the High Speed 2 (HS2) and Skanska Costain STRABAG JV (SCS) supply chain and national dignitaries meet for a day of best practice sharing and to mark recent advancements in logistics safety measures. It also coincided with the official opening of a new HS2 logistics hub in Willesden, from which SCS's supply chain partners will operate locally.
Guests were invited to view a line-up of the latest HGVs in operation by Tarmac and their partners UK wide. This includes innovative high-direct-vision vehicles, which are increasingly being used in urban areas and offer additional benefits for drivers, road users and pedestrians.
Improving vulnerable road-user safety, high-direct-vision vehicles are designed to enhance a driver's field of vision, particularly on busy urban roads. They feature a panoramic windscreen and floor-to-ceiling doors, giving drivers improved visibility of cyclists, particularly if they approach the nearside of the vehicle – a key blind spot in traditional HGVs.
Christopher Gibbons, commercial manager for Tarmac, said: 'As a leading sustainable business with a nationwide HGV fleet, it's vital that we continuously innovate to further develop the safety standards and environmental performance of our vehicles.
'Collaboration is key, and we're committed to working with customers such as SCS, supply chain partners, and industry bodies to explore opportunities to drive improvements in this area. As such, we're proud to have been part of this event and to show our support for Project Edward.'