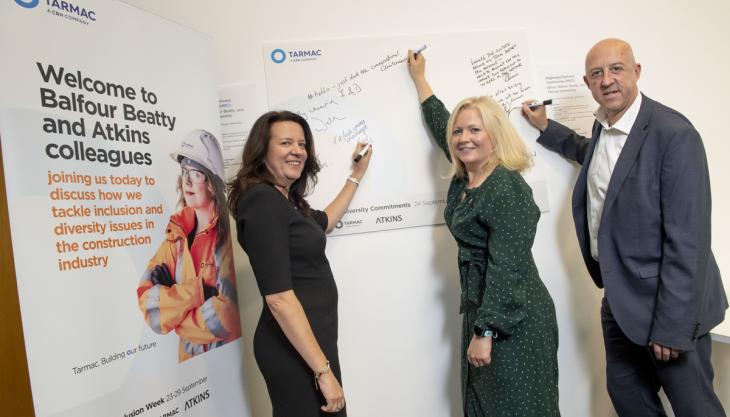 Senior managers from Tarmac, Balfour Beatty and Atkins attend event to discuss value of having a diverse and inclusive workforce
HELD during National Inclusion Week (23–29 September), Tarmac have hosted a successful panel discussion on workforce inclusion and diversity, with senior management drawn from the company, Balfour Beatty and Atkins. 
The session was led by a number of senior managers, including: Graeme Boylen, HR director for Tarmac; Dean Banks, CEO of Balfour Beatty's UK construction business; and Bev Waugh, Atkins project/client director.  
Mr Boylen (pictured right), who spoke about the challenges and opportunities facing the industry, commented: 'National Inclusion Week is a great opportunity for Tarmac, and our friends at Balfour Beatty and Atkins, to celebrate the many achievements and successes of our people, and the increased diversity and inclusion of our workforce.
'It is extremely important to us that everyone – regardless of their background or circumstances – is able to reach their potential. For this to happen, we need to continue to work hard to create an environment of inclusion, where each of our employees feel a sense of belonging so that they can bring their whole self to work.'
Ms Waugh (pictured left), who also spoke at the panel, said: 'Diverse groups are more innovative and make better decisions, which is why our industry needs to continue cultivating an inclusive environment where talent knows no distinction and where people are empowered to realize their full potential.
'We all have a role in making this happen and we must challenge ourselves and each other if we see behaviours that don't support it.'
Mr Banks added: 'At Balfour Beatty, we believe that greater inclusivity and diversity within our workforce creates a working environment that nurtures employees of all skills and abilities.
'We are deeply committed to providing equal opportunity for our employees across the Balfour Beatty business and it is imperative to open this industry-focused discussion during National Inclusion Week.'
Attended by employees from across the three businesses, the event was held at Tarmac's head office in Solihull. Also participating in the panel discussion were Richard Vine, Tarmac's contracting regional director, and Christina Brown (pictured centre), human resources director for Balfour Beatty.