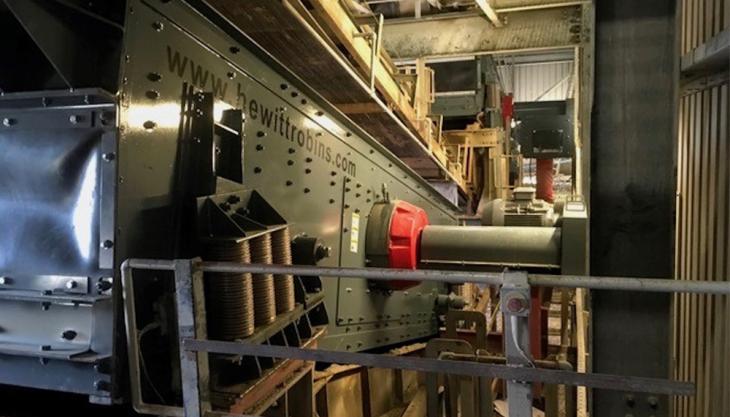 Company supplies and installs two bespoke replacement grading screens for Hanson
BULLS Lodge Quarry, in Essex, has had a varied history; once a WW2 airfield operating Buccaneer bombers, after the war it was used for motor racing until 1955 when the Ford Motor Company began using the old airstrip for truck testing.
The old airstrip was dismantled by Pioneer Aggregates in the 1990s to get at the valuable gravel reserves below, with Hanson taking over the site in 2000.
Since operations commenced the plant has processed a minimum of 650,000 tonnes per annum, and with a 4 million tonne extension Bulls Lodge still has approximately 15 years of reserves to process.
Today the plant supplies products primarily to local concrete plants as well as Hanson's own on-site concrete plant, asphalt plant and bagging plant.
For such a high-profile operation it is essential that any downtime is kept to the absolute minimum, and having suffered ongoing issues with the quarry's existing grading screens, Hanson eventually made the decision to replace them.
Hewitt Robins, who won the subsequent tender process, recently supplied and installed the two new bespoke grading screens.
Grading screen 1 is a 2.4m x 6.6m double-deck circular-motion screen featuring a QV14 single-shaft, four-bearing drive unit. Handling 425 tonnes/h of –100mm sand and gravel, the screen separates at 40mm on the top deck and 20mm on the bottom deck using SCS85 polyurethane modules.
Grading screen 2 is 2.4m x 8.2m double deck circular-motion screen which uses the same drive unit (for commonality of parts) and handles 275 tonnes/h of –25mm sand and gravel. This screen separates at 10mm on the top deck and 5mm on the bottom deck, again using SCS85 polyurethane modules.
Both screens were constructed to fit into the existing application and incorporate 40mm thick rubber wear liners, direct cardan shaft drives, 37kW IE3 drive motors, and 6mm thick 40 Shore rubber cross-member protection.
The screens also benefit from friction checks, which are built into the screen supports and efficiently retard the screens during shutdown, thus reducing forces transmitted to surrounding structures.
In addition, the screens offer improved height between the decks, to allow for easier screen media changes, and are coated with three-layer polyurethane paint protection to help withstand the effects of water, sand and gravel.
The screen support frames are fully bolted with no welds, so all components are interchangeable, and all surfaces that come into contact with material are rubber lined to help increase equipment life.
Essex quarry manager Richard Page commented: 'We had serious issues with the original grading screens for some considerable time and although several attempts were made to resolve the problems the proposed changes were too expensive, so we decided the best way forward was to replace the screens.
'The tender was offered to several screen manufacturers but after a site visit and subsequent consultations, Hewitt Robins proposed a viable solution with a five-year guarantee and were successfully awarded the order for the replacement of the two double-deck grading screens.
'Hewitt Robins carried out the installation in the agreed timescale and now carry out monthly inspections on the screens, which have now been in operation for more than five months with no issues, so the job has been a complete success.'