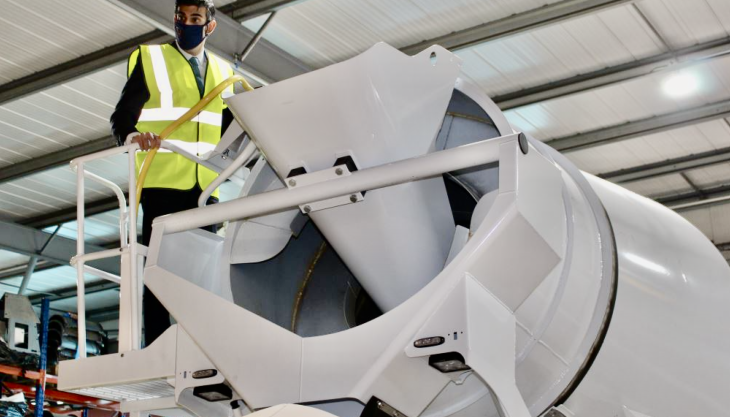 Heavy-duty truck bodywork manufacturer looking to expand as economic recovery gathers momentum

STERLING GP, manufacturers of heavy-duty truck bodywork, say they have full order books and are looking to expand as the economic recovery from the pandemic gathers momentum.
Based in Stokesley, a few miles south of Middlesbrough, Sterling explained to local MP Rishi Sunak how they were set to grow during his recent visit to the business.
The company – owned by the James family – has full order books on the back of a busy construction sector. It makes specialist beavertail plant bodies for trucks and step-frame low-loader trailers used to transport construction equipment to and from sites.
Sterling also recently acquired Hymix, manufacturers of truck-mounted concrete mixers, moved the business from Shropshire to Stokesley and invested £1 million in a new production facility for the mixers.
Mr Sunak inspected the first mixer unit off the production line, which has been sold to local firm Ready Mix Tees Valley.
As this new production strand to the business develops, the company is looking to recruit up to 20 skilled employees to add to an existing team of around 50 staff.
Jarl James, sales director and son of co-founder Antony James, said Sterling were keen to develop their workforce and were looking to take advantage of the additional apprenticeship incentives announced by Mr Sunak in the recent Budget.
'The new production capacity will definitely lead to more opportunities for skilled staff in the coming months and years,' said Mr James.
'We also want to grow our team through developing young people. We have recruited school leavers in the past and will be looking at formal apprenticeships too.'
Mr James said another measure announced in the Budget – the 130% 'super-deduction' capital allowance to encourage investment – had benefited the business already in stimulating orders.
Mr Sunak (pictured) said the positivity of the James family and the Sterling team was impressive. 'It is very encouraging to see a business finding new markets and developing its team to meet a growing demand for their class-leading products.
'The last year has been tough but they are clearly well set to take advantage of increasing activity in the construction sector as the economic recovery continues.'