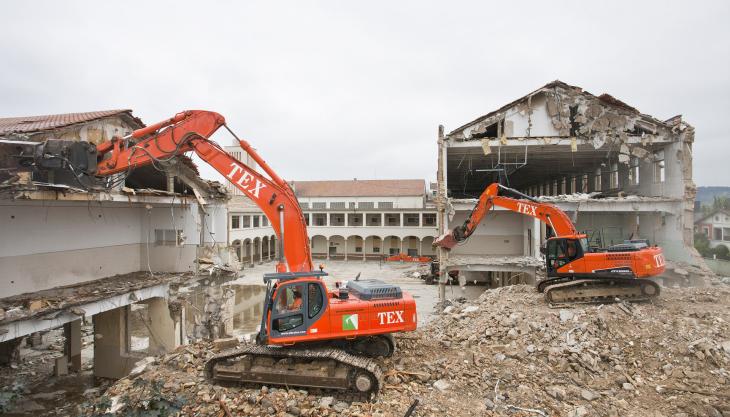 Obras y Servicos TEX staying loyal to Korean brand with the purchase of two new excavators
WASTE-recycling specialists Obras y Servicos TEX have strengthened their mobile equipment fleet with the addition of a new Doosan DX170W-5 wheeled excavator and DX350LC-7 crawler excavator.
The latest machine acquisitions continue a long-standing relationship between Obras y Servicos TEX and the South Korean manufacturer, dating back some 25 years.  
'I started working with Doosan machinery in 1997,' said Juan Andrés Solano, a director at Obras y Servicos TEX. 'We currently have 12 DX170W-5 wheeled excavators; three DX255LC-5s and an NLC model; plus DX420LC-5, DX340LC-5 and DX520 machines; and the latest 36-tonne DX350LC-7 model.'
Replacing two previous Doosan machines which had completed more than 38,000 hours between them, Mr Solano has clearly been impressed with the way the new DX170W-5 and DX350LC-7 excavators have performed since delivery.  
One complicated job that the Abrera-headquartered (near Barcelona) company had carried out was the demolition of Colegio de los Salesianos at the heart of Pamplona, where four teams of Doosan machines were deployed.
Obras y Servicos TEX had carefully dismantled the iconic building, cleared all the rubble, and left an esplanade ready to be built on. Around 20,000 cubic metres of rubble in an area of 13,500 sq m resulted and demolition work had to be precise, so it did not affect the adjoining buildings.
Both the DX170W-5 and DX350LC-7 machines worked on the project for two months to maximum accuracy and at full capacity. The DX350LC-7 excavator features Doosan's D-ECOPOWER technology, which provides operators with higher productivity and lower fuel consumption per hour, as well as smoother controls.
The D-ECOPOWER system uses nine sensors to detect the amount of hydraulic oil necessary to accomplish a specific task and precisely meter the amount of oil required rather than continuously forcing a fixed amount of oil through the system, thereby improving efficiency. 
Software is also utilized to electronically reproduce the full benefits of an open-centre hydraulic system with very little energy loss. The hydraulic system and engine horsepower are fully optimized and synchronized, further reducing losses within the system.
Enhanced feedback to the operator through the joystick results in improved machine control and less operator fatigue. The acceleration and deceleration of the excavator workgroup functions are smoother, allowing operators to perform repetitive swinging and digging motions with less jerking movements.