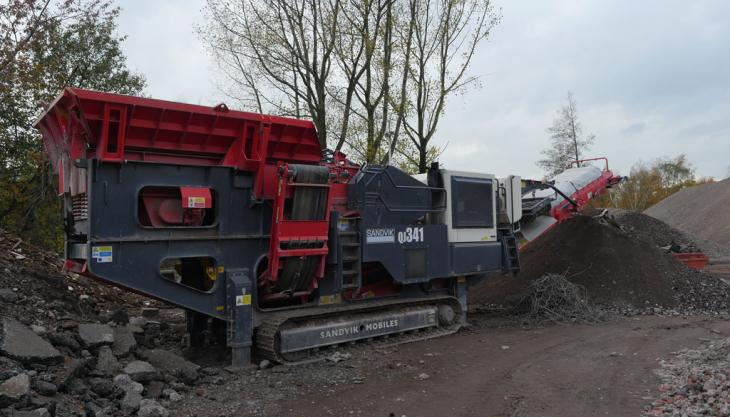 West Midlands-based firm processing waste more efficiently with new QJ341 tracked jaw crusher  
SJ Walchester have purchased a new Sandvik QJ341 tracked jaw crusher to help enhance their construction and demolition (C&W) waste-recycling operations. Since delivery, the machine has made an immediate impact and has impressed the Stoke-on-Trent based recycling operator with its efficiency, reliability and ability to process asphalt and tarmac even in warm weather conditions.  
SJ Walchester are renowned for supplying an extensive range of aggregates and recycled materials across Stoke-on-Trent and the Potteries region, including MOT Type 1, building sand and large quantities of crushed stone. 
Company managing director Steve Walchester and his team follow strict procedures which are implemented on site. Accurate waste segregation means SJ Walchester can recycle a huge proportion of C&D waste generated from demolished buildings. In addition, implementing a full dust-suppression system on site throughout the works further enhances the environmental credentials of the operator's modern crushing and screening operations
Being both proud of his company's hard-earned reputation and appreciative of the need to use the most advanced and effective equipment, Mr Walchester recently sought a new crushing solution for his recycled aggregates operation. SJ Walchester took the decision to invest in a QJ341 tracked jaw crusher, which was based on the performance of the machine (during demonstration) and the first-class backup and support provided by Sandvik.  
'We've used various crusher brands over the years, but from the initial demonstration the QJ341 was very good. It did more than I had expected, and we achieved greater output with the machine,' said Mr Walchester. 
The company currently produces between 2,000 and 3,000 tonnes of 6F2 concrete or Type 1 aggregate each day from a variety of sources. The arisings mainly come from demolition work, with the materials consisting of building waste, reinforced concrete, bricks and 300mm lumps of asphalt. 
'I've used crushers from other manufacturers on asphalt and tarmac, and the QJ341 is the only jaw crusher I've experienced that will process them without problems,' commented Mr Walchester. 'Our previous crusher wouldn't touch it and kept jumping the jaws. The QJ341 crusher can simply be put into reverse and crushes as well as it does when set forward.'
SJ Walchester have also taken out a Security+ Gold service agreement on the jaw crusher. This is Sandvik's extended warranty programme which lasts for a duration of two years. It includes four inspections throughout the year and preventative maintenance measures carried out by a qualified engineer to ensure the QJ341 unit is running at peak performance.