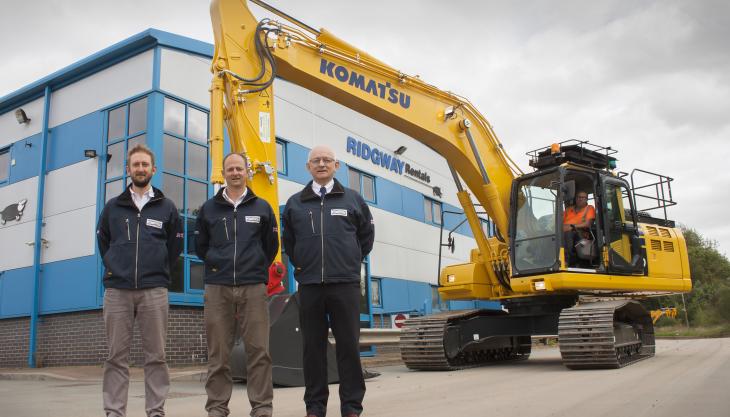 Shropshire-based plant hire business orders £9 million worth of earthmoving machines from Marubeni-Komatsu
BASED in Oswestry, Shropshire, third-generation family-owned business Ridgway Rentals Ltd are set to take delivery of 60 large earthmovers from Marubeni-Komatsu of Redditch. The £9 million deal includes a large number of Komatsu's 13-tonne zero-tail-swing excavators plus 22-tonne, 30-tonne, 36-tonne, and 50-tonne excavators along with a range of dozers and 30-tonne dumptrucks.
According to Marubeni-Komatsu, the real showstoppers of the order are the PC210LCi-11 excavators and D51PXi-24 and D61PXi-24 dozers featuring intelligent machine control.
As early adopters of this factory-integrated technology, Ridgway were among the first plant hirers to offer such machines to their customers. With the ability to electronically read site plans and ensure that machines operate in the most efficient way, many of the company's customers have already benefitted from the minimized work effort, shortened job times and reduced fuel usage this technology brings. As a result, customer demand for these intelligent machines is said to be growing, with this batch of new machines representing additions to the fleet as opposed to renewals.
With so much technologically advanced equipment in the fleet, Komatsu's remote monitoring system, Komtrax, will allow Ridgway to keep a close eye on their investment. The advanced GPS technology will allow the company to precisely locate any machine, monitor its health, measure actual working times versus idle times, take service meter readings and flag up any potential issues before they become a problem.
Moreover, all the new machines will come with Komatsu CARE – Komatsu's maintenance programme that covers factory-scheduled maintenance for the first three years. Additionally, Marubeni-Komatsu Service Contracts will ensure all service, maintenance and repair work is carried out by Komatsu-trained fitters.