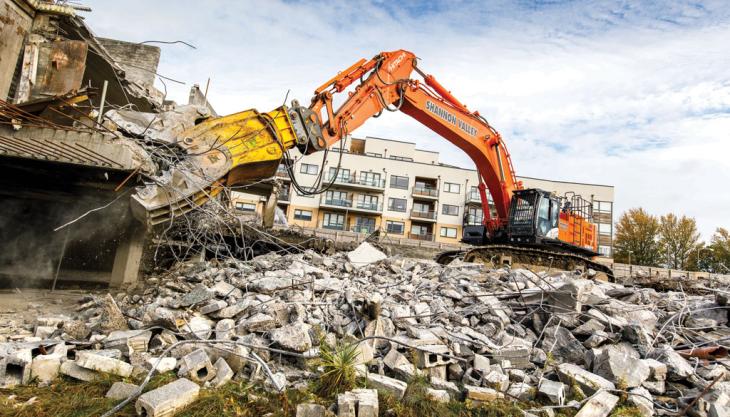 Demolition firm purchases new excavators and wheel loaders in response to growth of Irish construction market 
SHANNON Valley Group have expanded their fleet of Hitachi machinery to keep pace with the growth of the construction market in the Republic of Ireland. Based in Donabate, Co. Dublin, the company has bought a wide range of Zaxis-5 and -6 excavators, and ZW-6 wheel loaders, as the number and size of its projects have increased.
To have the flexibility to manage large-scale projects, Shannon Valley operate a large fleet of construction equipment at their disposal. The firm – which specializes in demolition, road construction, plant hire, haulage and bulk excavation – has a wide variety of earthmoving machinery and crushing and screening equipment. 
Shannon Valley purchased their first Hitachi excavator (a UH063) in 1989 and now there are around 50 Zaxis excavators and ZW wheel loaders across their fleet. 
David English of Shannon Valley commented: 'We bought more than a dozen machines last year, including ZX48U-5 and ZX33U-5 mini-excavators; ZX22USLC-6 and ZX250LC-6 medium-size units, and a larger ZX690LCH-6 model. 
'We have continued to buy Hitachi machines because the whole range is strong, particularly the large excavators for their durability and reliability. Some of our operators prefer Hitachi excavators as these machines are smoother to operate and more precise than other brands. 
'We have also found that the wheel loaders are trouble-free and have advanced over the years. In addition, Hitachi products are easy to maintain and we have an excellent working relationship with local dealers TBF Thompson.'
As well as construction-related activities in the thriving regional market, the company is also offering services in the recycling and quarrying sectors. Shannon Valley, for example, are blasting, excavating, crushing and screening aggregates at L Behan's Windmill Hill Quarry, in Rathcoole, where an invaluable source of high-quality, low-sulphur limestone is being extracted.