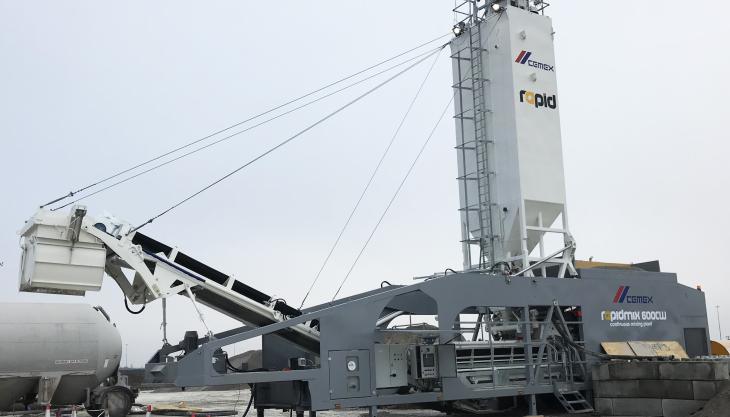 Company takes delivery of its second mobile continuous concrete mixing plant for fast mobilization and throughput
RAPID International Ltd, based in Co. Armagh, Northern Ireland, have recently supplied CEMEX UK with a new Rapidmix 600CW mobile continuous concrete mixing plant/pugmill for the production of cementitious mixes, including roller-compacted concrete (RCC) and cement-bound granular material (CBGM) .
The Rapidmix 600CW is the second Rapidmix plant to be added to CEMEX UK's mobile fleet in recent years. In 2014, the company purchased a Rapidmix 400CW to extend its capabilities in cementitious materials, commenting at the time that 'the machine offers multiple benefits including low operating costs, excellent mobility and high outputs to meet the challenging demands of today's projects'.
The Rapidmix 600CW produces high-quality mixes for utilization in a range of applications, from airport runways and contaminated land treatment to dam construction and soil stabilization. The mobile nature of the plant and its technically advanced design provide a cost-effective solution for on-site projects where high-specification compliance, large volumes and fast throughputs are essential.
CEMEX's new Rapidmix 600CW will be utilized for a wide range of applications throughout the UK, including a Veolia UK composting facility in Nottingham and an Able UK port development in Killingholme. Due to the large-scale nature of the company's projects, speed of mixing and mobilization were among CEMEX's key plant considerations.
James Playford, cementitious business manager with CEMEX Paving Solutions, said: 'Speed of mixing is most important as we need to lay large quantities of material and (especially for RCC) the speed of installation is key to ensuring the workmanship of the finished product is suitable. The mobility and design of the machine are the important bits for us. We need to be able to move and mobilize a high-production plant very quickly, and the Rapidmix 600CW is a great asset to achieve this.'
Fully mobile and self-contained, the Rapidmix 600CW is powered by an on-board compressor and generator, and equipped with a hydraulic self-erecting system that allows the plant to be changed from travel mode to fully operational mode within a few hours. Fully adjustable feed rates for the aggregate, cement and water systems mean the plant can deliver outputs of up to 600 tonnes/h.
With the addition of optional cold-feed bins, CEMEX's storage capacities have been enhanced and the company benefits from the option of utilizing a third aggregate, whilst full weighing options for all materials ensure that record-keeping is automated, precise and detailed.