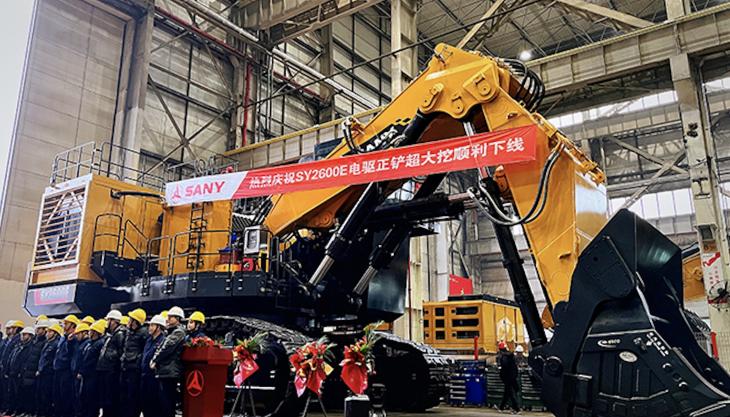 Company says new SY2600E marks another milestone in ultra-large digging machinery
SANY's first 300-tonne electric-drive front shovel recently rolled off the assembly line in Shanghai. Measuring 15m in length and 8m in height, SANY describe the SY2600E as another milestone model in the field of ultra-large digging machinery.
Speaking at the roll-out ceremony, SANY Heavy Machinery chairman Chen Jiayuan recalled that the company developed China's first 200-tonne hydraulic excavator in 2008, filling a gap in the domestic market.
'Today, 14 years later, the launch of the SY2600E marks SANY's latest breakthrough in the R&D and manufacturing of large excavators,' he remarked. He also noted that the SY2600E will be introduced to the international market in the future, and that SANY will continue upgrading the tonnage – to 400 tonnes and eventually 800 tonnes.
Designed for use in large surface mines and earthwork projects, technical highlights of the SY2600E include: a fully electrically controlled, closed-type hydraulic system for faster dynamic response and less pressure loss; a 6,000V, 900kW heavy-duty motor; and an automatic lubrication system, centralized filling system, and maintainable parts that are centrally positioned and accessible.