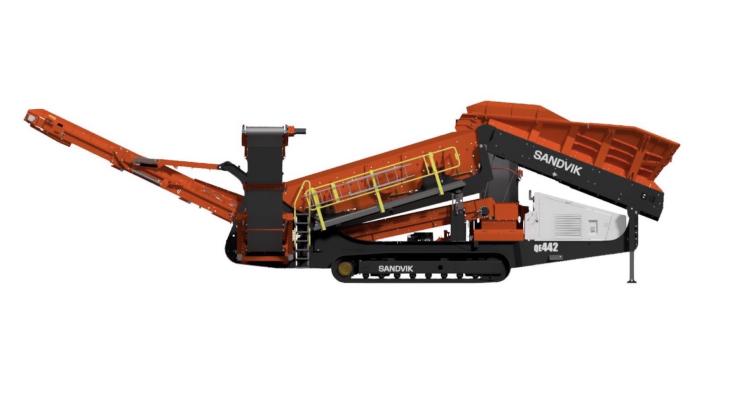 Sandvik Mobile Crushers and Screens introduce next-generation mobile heavy-duty scalper
AN evolution of the earlier QE441 model, the new QE442 scalper from Sandvik Mobile Crushers and Screens is said to incorporate many product refinements for improved plant durability, efficiency, quicker set-up and easier service access, whilst also maintaining the class-leading features of its predecessor.
One of the key upgrades on the QE442 is a new screen box, which has been redesigned to further strengthen its durability. Extensive finite element analysis has been carried out to ensure longevity and reliability in arduous applications, whilst the screenbox jack-up facility allows easier access to the bottom deck for maintenance and screen media changes.
With a wide choice of screen media available, the QE442 can be configured to suit specific requirements and is able to cope with a wide range of materials and applications, including construction waste, landfill mining, quarry overburden, mine dumps, and scalping, either before or after crushing.
The QE442's power pack has been redesigned for easy access to the engine during service and maintenance. Enhanced safety features such as internal lighting have been incorporated, as well as modifications for improved plant efficiency. These include a more powerful 103kW (138hp) Cat C4.4 Stage 4/Tier 4 Final-compliant engine option, a lower engine operating speed (1,800 rev/min) for reduced fuel consumption and noise levels; a hybrid electric drive option; and optimized hydraulics.
Hydraulic service intervals have also been improved, with the fluid change intervals extended from 2,000 to 4,000 hours, thereby providing a 50%+ cost saving as well as delivering environmental benefits.
The new QE442's electrical control system incorporates several features to improve both operational effectiveness and machine safety. This simple, easy-to-use system features a key switch, a mode selector switch (set-up, operation and tracking) and one button to commence sequential automatic start-up and automatic shut-down of the plant whilst in operating mode, with pre-start warnings on all plant functions to ensure safety and ease of operation at all times.
In addition, the QE442 is fitted with Sandvik's My Fleet remote monitoring system as standard. This has been developed to help customers know exactly how their equipment is being utilized. Through the collection and accurate monitoring of a wide array of parameters, the system facilitates accurate production forecasting, ensuring that the most efficient use is obtained from the equipment, thereby maximizing its return on investment.