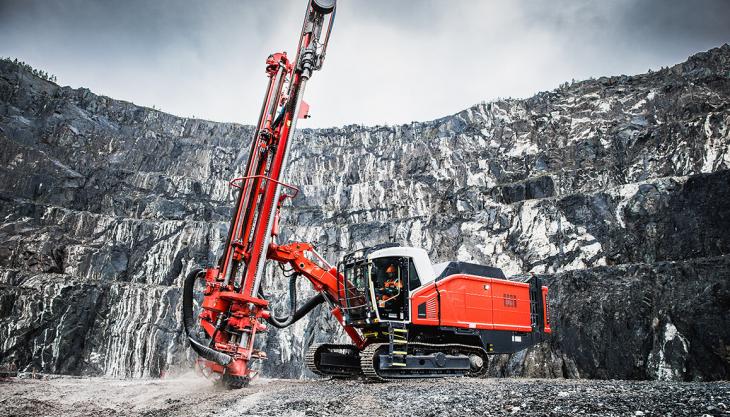 New rig said to offer more intelligent down-the-hole drilling in surface mining and large-scale quarry applications
SANDVIK Mining and Rock Technology have expanded their high-pressure down-the-hole (DTH) drill rig offering with a new model, the Leopard DI650i, designed for larger hole sizes. Balancing proven engineering solutions and innovative new components, the new DTH rig is said to offer excellent fuel efficiency, improved safety and higher productivity in challenging rock conditions.
The Leopard DI650i is designed for demanding, high-capacity production drilling applications in surface mining and large-scale quarry applications. In addition to a powerful engine and compressor, the rig incorporates a highly ergonomic iCAB cabin, and offers enhanced serviceability, mobility and fuel economy, along with scalable automation packages for improved overall productivity.
In addition to the long-term track record of its engine and compressor design, the Leopard DI650i comes with a range of new or redesigned components to boost its productivity. Whereas the standard HTRH6 rotary head option has performed successfully on existing Sandvik DTH rigs, the new heavy-duty MRH6 option is a good fit with Sandvik's powerful new RH560-series DTH hammers and well-matched to the demands of the upper range of the capacity area.
Pipe sizes range from 89–140mm (3.5–5in), depending on the size of the hammer, the maximum hole depth is 53.6m (175ft 10in) when utilizing the carousel option with pipe sizes from 89–114mm, and the capacity range of 403kW Tier 3 Cat C15 diesel engine and compressor is adequate for high-pressure drilling with 4.0–6.5in DTH hammer sizes.
Thanks to its clear visibility of the drilling area and a single integrated touch screen for all monitoring, diagnostics and mining automation displays, the Leopard DI650i's silent, ergonomic iCAB cabin provides a safer, more productive working environment for the rig operator.
In addition, the maintenance crew can carry out all daily servicing tasks at ground level on both sides of the machine. The advanced serviceability and reliability features are said to increase the Leopard DI650i's availability by up to 20% compared with conventional DTH rigs at a similar technology level. Moreover, intelligent control technology applied in both the compressor and the hydraulic system's cooler fan can reduce fuel consumption by up to 15% compared with conventional DTH rigs.
The Leopard DI650i's fuel efficiency is further boosted by the flow-controlled drilling control system that eliminates fluctuations in air flow, instead allowing the pressure level to fluctuate in response to more difficult ground conditions and increased back pressure (eg, due to groundwater or collapsing holes). This makes maximum flushing pressure and penetration rates available in the most challenging of rock conditions, whilst still retaining the low fuel consumption of the traditional pressure control approach in easy ground conditions.
The Leopard DI650i joins Sandvik's other i-series drilling rigs in its compatibility with the newest scalable automation solutions. The latest onboard options include TIM3D drill navigation with wireless data transfer, My Sandvik fleet-monitoring system and full-cycle drilling automatics, which merge functionalities such uncoupling, feed auto-aligning and feed auto positioning into a single efficient sequence. These capabilities can be further upgraded with more advanced modules such as single-rig or fleet remote control systems by Automine Surface Drilling.