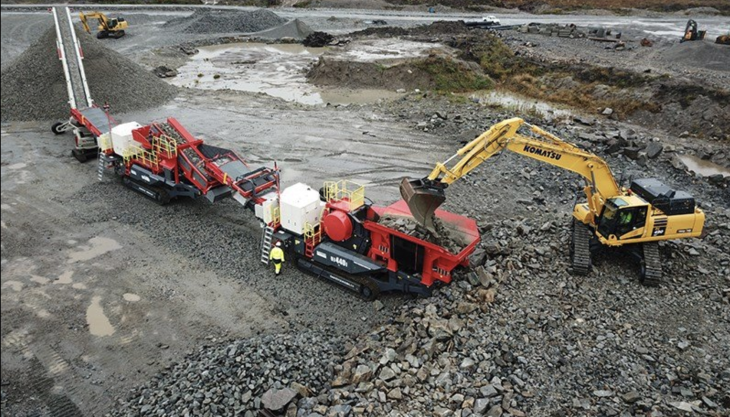 Fredheim Maskin appointed as new distributor for mobile crushing and screening equipment in Sweden
CONTINUING their development of the Scandinavian market, Sandvik Mining and Rock Technology have announced an extension of their existing agreement with Fredheim Maskin to sell their Q-Range, U-440 and U-300 series of mobile screens and crushers into Sweden.
Fredheim Maskin AS have successfully handled the sales and aftermarket support of Sandvik's mobile crushing and screening range in Norway since 2015.
As an established and reputable name throughout Norway for the supply of heavy equipment, Sandvik say Fredheim will be a great asset to further their growth of specific products into the construction and contractor sectors in Sweden.
Fredheim Maskin will stock a wide range of Sandvik mobile crushers and screens, providing quick delivery times, long- and short-term rental agreements, as well as supplying aftermarket, technical support and finance.
Spare and wear parts will be shipped daily from Fredheim's main stock in Spydeberg, Norway, to customers in Norway and Sweden, and a stock of new machines is already in place and available for immediate shipment at their facility in Karlstad, Sweden.
Commenting on the appointment, Marcello Pupino, area sales manager for Sandvik Mobile Crushers and Screens, said: 'Our relationship with Fredheim Maskin has grown successfully over the past few years and we are delighted to extend their agreement to include Sweden.
'With their investment into the Swedish market, we will be able to provide faster delivery times to meet customer demand.'
Per Olav Fredheim, managing director of Fredheim Maskin, said: 'Sandvik represent a very strong brand within the crushing and screening industry in Norway, Sweden and globally.
'Our team will do the utmost to make our appointment as Sandvik Mobiles' sales representative for the Swedish market a great success.'