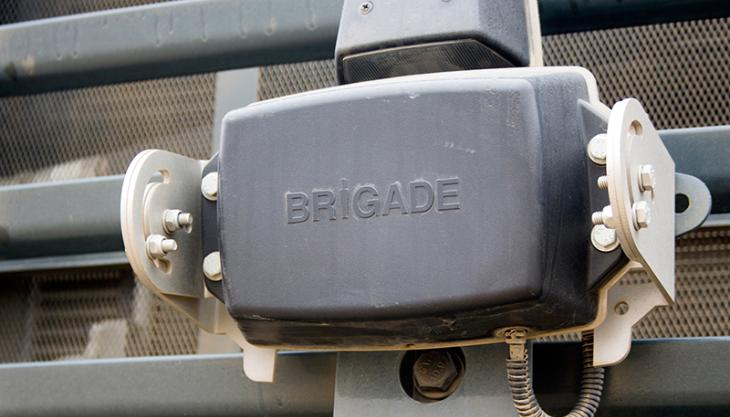 Blind-spot dangers eliminated thanks to Brigade's Backsense radar obstacle-detection system
WASTE-management company Sheerness Recycling have fitted Brigade Electronics' Backsense radar obstacle-detection system to their fleet of mobile plant to provide drivers with clear warnings of people, smaller vehicles or other obstructions that enter their blind spots.
Based in Kent, Sheerness Recycling operate two landfill sites and five recycling sites where a fleet of large vehicles operates continuously in harsh terrain working with a range of materials including concrete, brick and asphalt.
Simon Carter, general manager of Sheerness Recycling, explained: 'There is a two-to-three-metre blind spot around the machines due to the height of the vehicles and the fact that the driver is stationed in a central location. Large vehicles can often be spotted but smaller vehicles and pedestrians are difficult to see and can sometimes creep up behind you.'
To ensure proper, safe and effective operation, Sheerness Recycling have fitted their larger mobile plant with Brigade's Backsense radar system. Built and engineered by Brigade Electronics, the easily calibrated sensors can detect stationary and moving objects, providing in-cab visual and audible warnings to alert the operator.
Backsense emits a continuous-wave radar which is said to be faster than competitors' pulsed radar products. The BS-8000 sensor system controls the radar beam pattern, so the spread of the beam can be restricted to the width of the plant for the length of the detection area, to minimize false alerts on a busy site.
The unit is fixed to an adjustable mounting bracket, allowing the radar to be directed at different angles to optimize detection performance and help prevent ground detections when approaching ramps.
Backsense comes in a range of models with programmable and fixed detection zones of up to 30m, which Brigade say is a considerably larger range than that offered by other products on the market. The rugged design of the Backsense system, in line with IP69K standards, allows the sensor to operate effectively in areas of harsh terrain, dust, and in poor weather conditions.
The in-cab display has a clear, easy-to-read visual warning with five LEDs corresponding to five distance zones from the vehicle. The audible warning buzzer, although adjustable, cannot be switched off, thereby eliminating the possibility of driver interference and providing fleet operators with peace of mind.
Mr Carter concluded: 'It gives me extra confidence knowing that the radar system is there and that it will alert me if there's an obstacle within a couple of meters of the vehicle.'