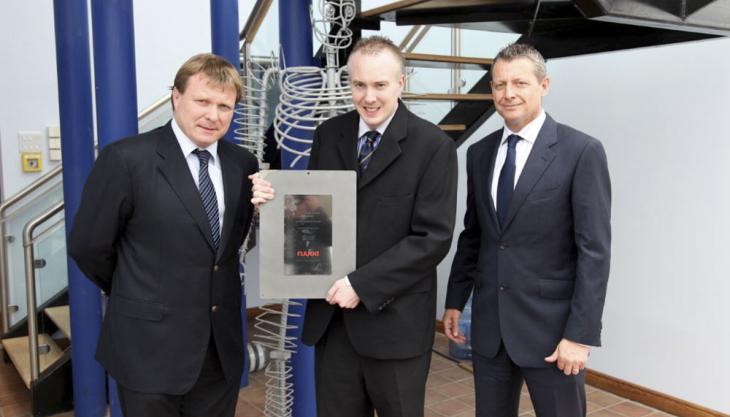 Leading Irish steel manufacturers and distributors appointed certified partner
Certification is how Ruukki intensifies cooperation with selected distributors of special steel products. The programme benefits customers through improved product support. 
Coen Steel have been appointed Ruukki's Certified Partner in Ireland. The company offers a wide range of steel products to its customers and keeps steel stock that includes Ruukki Laser and Raex strip and plate products. Coen Steel are one of the leading major steel manufacturers and distributors in Ireland and supplies to all industrial sectors. They offer unrivalled stockholding facilities and an extensive distribution fleet. 
At Coen Steel's offices in Galway, Ireland, Tony Harris, country manager, at Ruukki UK Ltd and David and Derek Coen, the owners of Coen Steel, signed an agreement making Coen Steel Ruukki's Certified Partner in Ireland. Also present was David Coen Sr, who spoke of his pride at Coen Steel being recognized as a Certified Partner. Coen and Ruukki have been working together for more than 20 years.
David Coen, co-owner of Coen Steel, said: 'We are proud and delighted to have formally joined Ruukki's network of Certified Partners. The Ruukki/Coen supply partnership has been offering customers in Ireland outstanding quality and service for more than two decades and this recognition ensures that we will continue to do so for the foreseeable future. Ruukki's special steels range aims to provide customers with cost-effective solutions to meet today's challenges for better fuel efficiency, increased payload and extended product life. Ruukki's Certified Partner Programme will allow Coen Steel to benefit from more thorough product training and closer co-operation on marketing. This will enable us to add an improved local technical support to our extensive stock range and just-in-time service. Our aim is to improve our understanding of our customers' business needs and propose the right solutions to optimize value for the entire supply chain.'
Ruukki's Certified Partner programme includes selected special steel distribution companies worldwide. Certification benefits both Ruukki and the partner: in return for providing partners with technical support, service and marketing co operation Ruukki gains increasingly more knowledge about customer needs and wishes and can further improve and develop their offering.  
Tony Harris, country manager, Ruukki UK Ltd, commented: 'The programme is designed to develop our network of distributors, and raise our partners' level of expertise in our products, their applications and use. We look forward to providing Coen Steel and their customers with innovative steel solutions to meet the challenges for improved product performance and extended product life.'