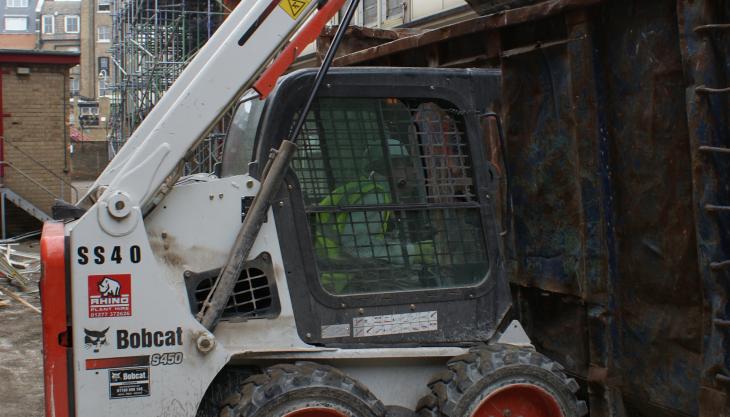 Essex-based plant hire firm strengthens equipment fleet with two new S450 loaders
RHINO Plant Hire have purchased the first two Bobcat S450 skid-steer loaders in the UK. The latest machines are part of a skid-steer loader fleet expansion at Rhino, which has taken the number of loaders for hire to around 50 units, including several existing Bobcat S70 and S100 skid-steer loaders.  
Steven Shelford, who runs Rhino Plant Hire along with fellow director Nick Bloxham, said: 'We formed the business in 2002 and have been offering skid-steer loaders for hire for more than 10 years. The Bobcat S70 and S100 models have been excellent performers in our fleet and when Bobcat of London showed us the new S450 skid-steer loader, we were very impressed with the solid build and design of the machine and ordered two of them straight away.
The feedback about the new Bobcat skid-steer loaders from our customers has been very good. We have a wide range of companies and individuals hiring skid-steer loaders from us, from demolition and groundworks contractors to landscapers and farmers.  We also offer a choice of attachments that can be hired for different applications with the loaders, such as grapple buckets and pallet forks.'   
One of the new S450 loaders is being used by Billericay-based KCP Demolition Ltd for work on Hercules House in Lambeth, central London.  The demolition firm is carrying out a stripping-out project at the nine-storey building, taking away debris resulting from demolition of the internal stairways, office partitions, ventilation systems and internal and external claddings to provide a structure, which, with the addition of a five-storey extension, will provide the basis for the new 438-bedroom hotel.  
On the Hercules House project, the internal columns and tight spaces provide limitations on the access for and movement of machines on site.  With its compact dimensions, the S450 loader is ideal for this type of confined area work where larger machines are not suitable. Working on each floor of the new building, the S450 loader has primarily been used to collect, load and remove all the debris resulting from the internal demolition.  
Keith Plenty, director of KCP Demolition, said: 'The new Bobcat S450 skid-steer loader is an excellent tool for demolition work.  It is a small machine particularly suited to the restricted space work found in demolition and other areas of construction.'
As well as a rated operating capacity of 608kg and tipping load of 1,215kg, the S450 skid-steer has a height to bucket hinge pin with the arms in a fully raised position of 2,781mm and a dump height of 2,157mm.  
'The impressive load capacity and dump height have made it very easy for us to use the S450 to dump debris through windows and chutes and into the large waste containers on site,' Mr Plenty added.  
As with the larger models in the Bobcat range, the new S450 skid-steer loader offers significantly improved comfort and visibility to allow for greater control and accuracy in tight working spaces.
In addition, the S450 loader is supplied with a fully pressurized cab with air-conditioning as an option. Other key features include: increased hydraulic performance and efficiency; a new tailgate design; integrated rear bumper; and enhanced serviceability.