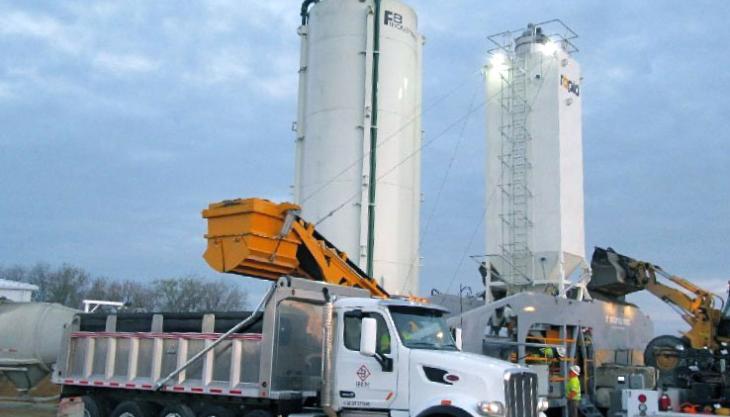 New mobile continuous concrete mixing plant opens up new opportunities for Kansas construction firm
IN conjunction with their US sales partners Rapid International USA Inc., Armagh-based Rapid International have recently supplied a Rapidmix 400CW mobile continuous concrete mixing plant to commercial and industrial construction services providers Andale Construction.
Based in Wichita, Kansas, Andale initially chose to rent the Rapidmix 400CW from Rapid International USA Inc. for the production of roller-compacted concrete to complete the North Gate Improvement project at the Port of Virginia – a critical infrastructure project designed to improve the throughput of trucks at Norfolk International Terminals (NIT) at Hampton, VA.
The now successfully completed North Gate provides 26 lanes of ingress and egress to the terminal's North Berth – more than doubling the gate capacity at NIT.
As a result of the success achieved with the Rapidmix on this project, Andale made the decision to purchase the Rapidmix, as the machine's mobility and high-output capabilities would enable them to target larger schemes and projects throughout the Wichita area and beyond.
Matt Munsick of Andale Construction commented: 'We were able to run the plant continuously at 400–425 tons/h with our pig/silo. I have never been able to run that fast for a couple of hours, much less eight or nine hours without stopping. We averaged 1,800 cubic yards per day with the Rapidmix 400CW and even hit 2,500 one day.'
Andale Construction were also greatly impressed with the homogeneity of the concrete mixes and the machine's fast set-up time. 'Everything was set up in less than two hours, calibration took about that long, excluding the wait time at the scales, and we were off and running,' said Mr Munsick.
Having recently completed the North Gate project, Andale are now set to move the Rapidmix to its next assignment on an infrastructure project for the North Carolina Department of Transportation.
Fully mobile and self-contained, the Rapidmix 400CW features its own power source with an on-board compressor and generator, and thanks to its hydraulic self-erecting system, the plant can be transformed from travel mode to fully operational mode within a few hours.
Offering outputs of up to 600 tonnes/h, the Rapidmix provides fully adjustable feed rates for aggregate, cement and water. Moreover, the recently updated new-generation unit incorporates full weighing options for all materials, ensuring precise, detailed and automated record keeping.