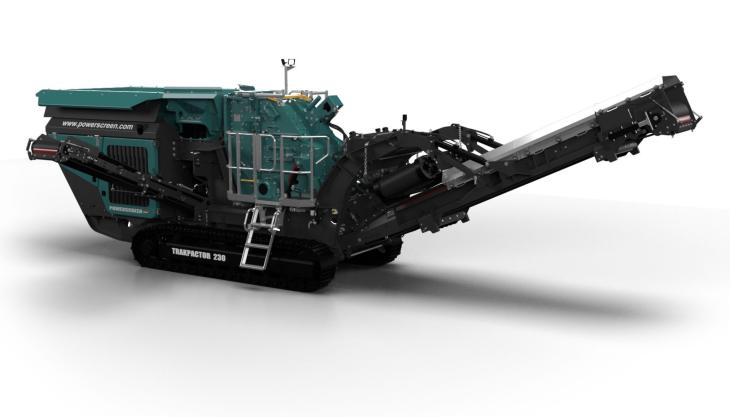 Manufacturer introduces two new compact and productive and versatile tracked mobile impact crushers
POWERSCREEN have announced the launch of the Trakpactor 230 and Trakpactor 230SR impact crushers, featuring 'alive inside' technology.
With their compact design and ease of mobility, the new machines have been designed to offer high levels of reduction and high consistency of product yield, and are primarily suited to recycling, demolition and mining applications.
In addition, the machines are said to offer superior crushing productivity, unrivalled versatility and exceptional fuel efficiency compared with similar-sized machines on the market.
The Trakpactor 230SR model includes a post-screen system and recirculating conveyor which allows oversize material to be passed back to the crusher for further sizing.
Powerscreen product manager Neil Robinson explained: 'The new Trakpactor 230 and 230SR are very welcome additions to our mobile impact crushing range and are the first of many exciting new product development initiatives for Powerscreen this year.
'Addressing feedback from Powerscreen dealers and customers, both machines are suited to small-to-mid-sized operations that require a reduced footprint without compromising on output performance.
'The Trakpactor 230SR has the ability to convert to the Trakpactor 230 in minutes thanks to the quick-detach SR section, making it the ideal solution for regions with transport weight restrictions.
'Furthermore, these units have been designed to promote optimal flow of material and offer excellent serviceability, ultimately maximizing uptime for our customers.'