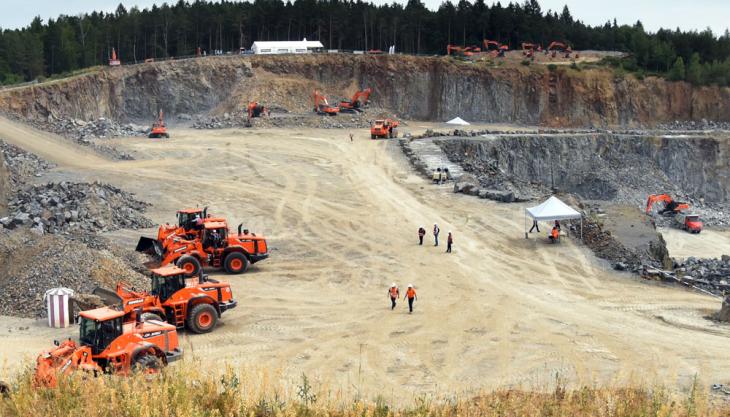 Dealers and customers revel in hands-on sessions on 30 different Doosan machines at event in Czech Republic
DOOSAN dealers and their customers from more than 20 countries around Europe attended the recent Doosan Quarry Days 2017 event in the Czech Republic, where they were provided with a unique platform to test the company's latest excavators, wheel loaders and articulated dumptrucks in real working conditions.
With 30 machines available to try out, the event was created in response to dealer and customer feedback asking for access to hands-on testing of the latest machines in true working environments. As a precursor to agreeing current and future purchase deals, this provides advantages for Doosan dealers and helps to strengthen customer relationships.
Unlike many manufacturers where customers can only view 'staged' demonstrations of machines, Doosan say they have listened to customer requests with their Quarry Days programme. The event is designed to provide the best-possible experience, backed by support, expertise and consultation provided by Doosan demonstrators, trainers and product managers.
Attending Quarry Days this year was Gary Heckford, contracts manager at Kendray Construction, based in Wollaston, Northamptonshire, UK. Kendray Construction offer a wide range of expertise and experience in groundworks, civil engineering and earthworks, and this year have already taken delivery of two new 14-tonne Doosan DX140LC-5 crawler excavators supplied by their local Doosan dealers, Murley Construction, based in Stourport-on-Severn, Worcestershire.
Describing his experience at Quarry Days, Mr Heckford said: 'I attended the event as a guest of Steve Farden from Murley. Apart from the large array of machines from the smallest, the DX10Z, up to the largest, the DX530LC-5, that are available to try out, I found the advice and training available from the Doosan product experts of great value.
'The event provided me with a broader practical knowledge of the different machines available from Doosan and will be important in future plant purchases for Kendray Construction.  I strongly recommend Quarry Days as an event for customers.'
Another visitor from the UK was Alan Miller, managing director of Miller Plant Ltd, based in Inverurie, Scotland. Miller Plant have recently purchased new Doosan 22-tonne DX225LC-5 and 25-tonne DX255LC-5 crawler excavators, a second-hand Doosan DX380LC-3 excavator and a new Doosan DL420-5 wheel loader from Balgownie Ltd, their local authorized Doosan dealer.
Mr Miller said: 'Quarry Days was one of the best manufacturer's trips I have been on and we were well looked after by Craig Mann of Balgownie, and Doosan. Unlike the trips from other suppliers where you are not allowed to drive machines, the opportunity to try out the full range of Doosan products at Quarry Days is exceptional.
'Following the trip to the Czech Republic, I have a much better knowledge of Doosan, the range they offer and how they compare with other machines on the market.'