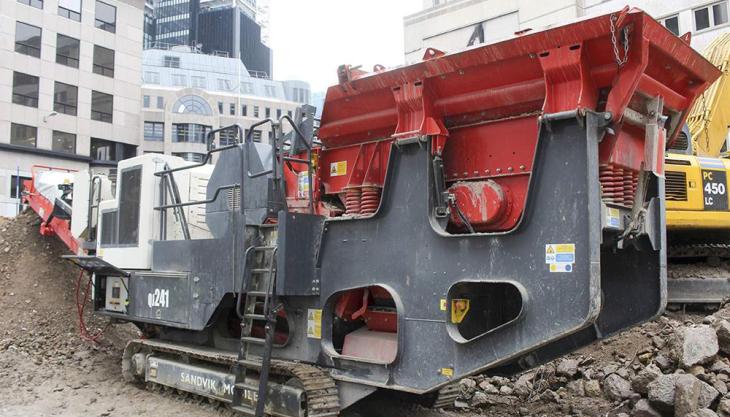 Demolition contractors bolster equipment fleet with its fifth QJ241 tracked jaw crusher 
PJL Plant Hire & Demolition (PJ Labour) have added a fifth Sandvik QJ241 tracked jaw crusher to their rental fleet, enhancing the company's contract crushing capabilities. In addition to the suitability of the machine for the purpose of its work, Sandvik were chosen as the preferred supplier due to the excellent service support on offer. 
PJL acquired their first QJ241 mobile jaw crusher in 2015. Weighing 36.2 tonnes, the model has been designed for operators who require high performance and a versatile unit with smaller operating footprint that is easy to transport. 
To achieve this, the machine features a transportation width of 2.64m and height of just 3.2m, combined with a substantial jaw with hydraulically adjustable jaw setting to maximize output.
'From a machine point of view, the QJ241 does everything that I want it to do,' said Paul Harris, managing director of PJL. 'It is the smallest machine in the Sandvik range and, in reality, a 'true city crusher'. Ninety per cent of what we do is small site city work where we need this size of crusher, although it can handle small jobs and larger jobs equally well. I am more than happy with the size and capabilities of the mobile jaw crusher.'
Mr Harris added the level of service provided by Sandvik was just as important as the machine's capabilities when it came to making a purchasing decision. 
He commented: 'We previously bought seven crushers from another supplier but the level of customer support dropped off. We often replace all our equipment after just two years to ensure maximum uptime so when that time came for newer machines, I decided to try out Sandvik and the results have been good. I like to know that I can easily contact the right person if there is a problem and it gets sorted out as soon as possible.'
Mr Harris has been impressed by the number of features of the Sandvik QJ241 unit, including: an integrated hydraulic conveyor that can be lowered to help in clearing blockages; and reverse crushing capability to allow the processing of sticky material as well as the clearance, again, of blockages. 
Another key feature of the crusher is the autolube system, as Mr Harris explained: 'This eliminates the risk of the machine not being sufficiently serviced daily by its operator. If the bearing is not adequately and regularly greased, then it might be damaged and needs replacing. A fitter is required to do that and there is a cost for it, of course, which adds to the cost of the resulting downtime. Autolube is, therefore, a must.'
All five of PJL's Sandvik machines are hired out with fully trained and certified operators. As well as contract crushing, the business provides a demolition plant hire service, with a fleet of 25 excavators ranging in size from 13 to 30 tonnes, available with or without an operator. 
PJL also operate their own transport fleet, delivering equipment as required to sites anywhere in the UK for demolition projects carried out by the company or its rental customers.