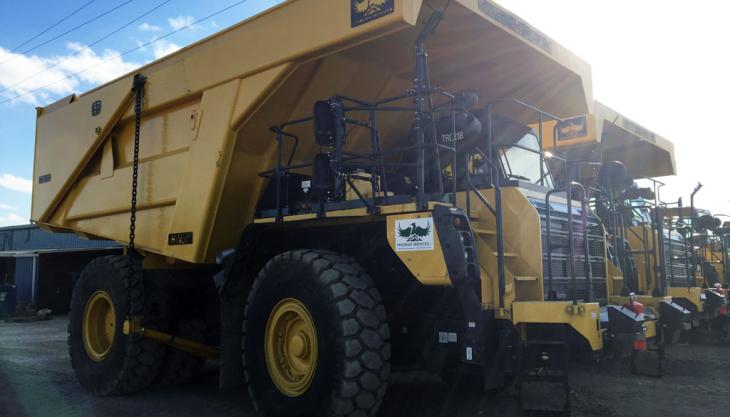 Latest Autogate tailgate design reflects commitment to maximum efficiency and reduced maintenance
PHILIPPI-Hagenbuch (PHIL), US specialists in off-highway truck customization, have developed a new version of their Autogate tailgate system for use with Komatsu rigid-frame haul trucks.
The company, which has been producing its Autogate range since 1969, unveiled the updated design at the 2019 AGG1 Academy and Expo, held in Indianapolis in February.
According to PHIL, the Autogate system was the first-ever commercially available tailgate and has since become the de facto standard in off-highway truck tailgates used in quarries and mines around the world.
The latest design of the tailgate uses a traditional outrigger that bolts to the truck's undercarriage, which eliminates welding and allows Komatsu operators to retain their original truck frame warranty. The updated tailgate also features a new 'banana superstructure' that provides the stability and structural integrity without sacrificing opening clearance at full dump.
The new version of the Autogate tailgate is available for use with Komatsu HD405-8, HD465-8 and HD605-8 haul trucks, with retrofit kits for older models to follow from late spring 2019.
Sideboards are available ranging from 6in to 40in in height, providing a unified body height while increasing volumetric capacity for optimal truck loads. In addition, body seals, fluidic seals and cushion pads are available as options to further customize the tailgate.
PHIL say the new Autogate tailgate design reflects their commitment to keep pace with customer feedback and constantly innovate new ideas to maximize efficiency and minimize maintenance on the ever-changing models of off-highway haul trucks available in the market.