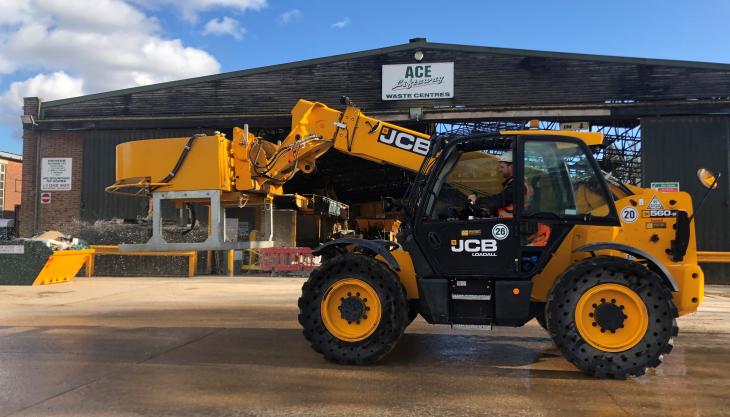 Ace Plant supply Ace Liftaway with 1,800-litre Quickspray dust-suppression unit for Hampshire waste site
ACE Plant, manufacturers and suppliers of the Quickspray dust-control attachment for telehandlers and loading shovels, have provided namesakes Ace Liftaway with an 1,800-litre Quickspray unit for their 15-acre waste recycling centre in Romsey, Hampshire.
Founded by Philip and Melanie Liddell in 1988, Ace Liftaway are a privately-owned construction, demolition, commercial and industrial waste-management and recycling company operating throughout Hampshire, Wiltshire and Dorset.
Mr Liddell first found out about the Ace Plant Quickspray in a trade magazine. He liked the unit's design and principle of operation, and quickly realized it would fulfil his own dust-suppression requirements.
The Quickspray utilizes a carbon-fibre spinning disc on to which water is fed. The spinning disc disperses water droplets over a wide area, capturing dust effectively and efficiently. To optimize water usage, the gravity-fed flow can be controlled using an adjustable 2in gate valve.
'The Quickspray gave us the instant ability to go through the yard from one end to the other; it's the most proficient, minimal time and effort machine we have for dust suppression,' said Mr Liddle.
He added that having an attachment which could be used with the company's existing fleet of JCB Teletrucks and Loadalls was a bonus.
The unit has also been utilized as a water storage bowser to feed the internal dust-suppression system on Ace Liftaway's crusher.
'I'm very pleased with the operation, versatility and simplicity of the attachment,' continued Mr Liddle. 'Weather conditions change by the hour, and the unit can suppress dust with controllable water extremely quickly.'
Ace Liftaway opted for the 1,800-litre Quickspray unit, which they say provides the flexibility to supply large quantities of water quickly for any unforeseen event.
The unit was supplied in a specified coastal paint (RAL 1007) and the fork pockets were adjusted to ensure compatibility with Ace Liftaway's entire fleet of Teletrucks and Loadalls.