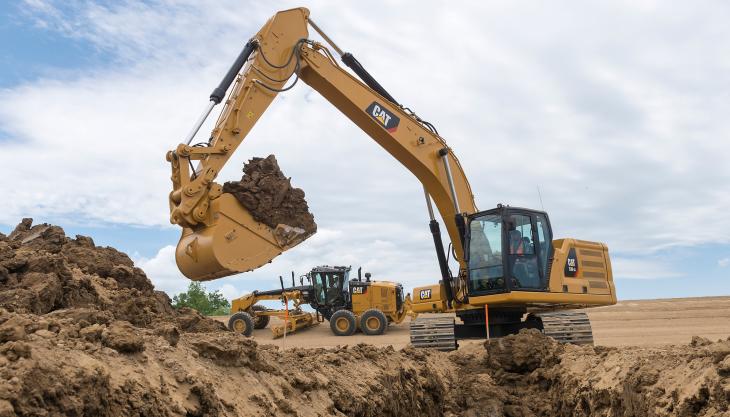 Cat 330 and Cat 330 GC designed to offer increased efficiency and lower operating costs
THE Next Generation 30-tonne size class excavators from Caterpillar – the 330 and 330 GC – are said to increase operating efficiency, reduce fuel and maintenance costs, and improve operator comfort compared with previous models.
Delivering high-production performance, the new Cat 330 features standard integrated Cat Connect technology and the most power and lift capacity of the two models, resulting in maximum productivity at the lowest cost.
The new Cat 330 GC combines an effective balance of productivity features with reduced fuel consumption and maintenance costs, resulting in high reliability and low-cost-per-hour performance.
The new Cat 330 has the industry's highest level of standard factory-equipped technology to boost productivity. Cat Payload delivers precise load targets and increased loading efficiency. With on-the-go weighing and real-time payload estimates, Payload helps prevent truck over/underloading.
The new Lift Assist feature helps the operator safely pick up heavy objects without tipping. Visual and auditory alerts indicate whether the load is within the excavator's working limits.
Cat LINK hardware and software connect work sites to the office and provide managers with machine-critical operating information.
Both the 330 and 330 GC are powered by Caterpillar's C7.1 engine, which delivers a gross power output of 275hp (205kW) and 204hp (152kW) respectively.
By design, Cat Next Generation excavators consume less fuel per unit of work than the models they are replacing – up to 20% for the 330 compared with the 330F and as much as 15% for the 330 compared with the 330D2.
New Smart mode operation automatically matches engine and hydraulic power to digging conditions, optimizing both fuel consumption and performance. To further reduce fuel usage, engine speed is automatically lowered when there is no hydraulic demand. 
The new cooling system employs auto-reversing electric fans, which independently monitor hydraulic oil, radiator and air-to-air aftercooler temperatures to deliver the exact airflow required.
The Cat 330 has a larger, 6,700kg counterweight, which allows the excavator to lift nearly 10% more than the 330F and up to 15% more than the 330D2. With increased swing pressure, a larger swing drive, and larger swing bearing, the Cat 330 delivers 5% more swing torque over the previous series.
Offering extended and more synchronized maintenance intervals, the new Cat excavators are said to reduce maintenance costs by up to 20% over the previous series.
The new Cat air filter with integrated pre-cleaner and primary and secondary filters has twice the dust-holding capacity of the previous design, whilst the new Cat hydraulic return filter has a 3,000h service life – a 50% increase over the previous filter.
Fuel system filters are synchronized for service at 1,000h – a 100% increase over the previous filters. The fuel system water and sediment drains and hydraulic system oil level are positioned close together at ground level, making routine maintenance faster and safer.
With a choice of Comfort or Deluxe cab packages, or a Premium package in some regions, all Next Generation Cat excavator cabs come equipped with standard features such as keyless push-button start, a large touchscreen monitor with jog dial keys for control, and sound-suppressed rollover protective structures for optimum operator comfort and safety.
Moreover, new advanced viscous mounts reduce cab vibration by up to 50% over previous models. Large front, rear, and side windows enhance visibility, whilst optional 360 visibility (330 only) combines images from multiple machine-mounted cameras to enhance the operator's view in all directions.