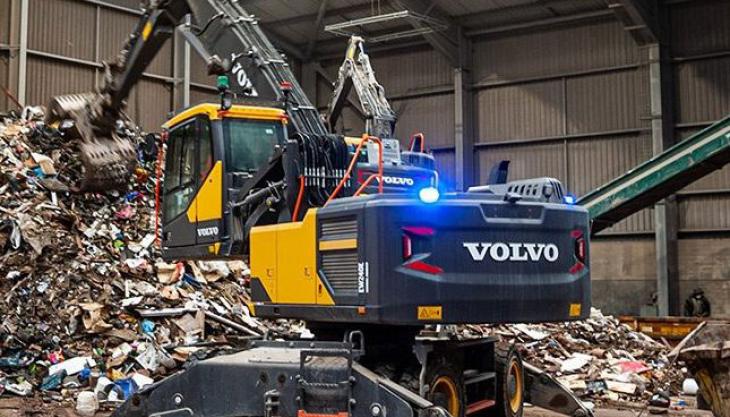 Company takes delivery of EW240E waste-handling machine at its new Exeter recycling facility  
EMS Waste Services have purchased a new Volvo EW240E materials handler for use at their newly opened Hill Barton recycling centre in Exeter, Devon.  
Deployed as the prime mover at the new site, replacing a two-year old EW210 that has been redeployed at EMS' Torbay recycling centre, Jack Stuart, facility manager, explained what prompted the Volvo machine purchase.   
'We chose the Volvo  EW240E for several reasons,' he commented. 'First, we needed a materials handler with an elevating cab to take over the increasing production requirements at our Torbay facility, as well as a larger machine to take over production in Exeter. Secondly, we already operate a range of Volvo equipment that has continuously demonstrated good reliability, so opting for the new  EW240E  made perfect sense.  
'Relying on good aftersales support is equally important when we need it, so is another reason for choosing Volvo equipment. SMT GB has a positive attitude when it comes to supporting us – nothing is too much trouble for them. Furthermore, the products themselves hold good residual values in the marketplace.' 
Powered by a six-cylinder Volvo engine developing 171hp, the EW240E offers the latest in engine technology and operating sophistication. For example, pump flow is controlled for combined equipment and slewing operations to reduce the flow loss through overload relief valves, while maintaining lift capacity and maximum swing torque. 
The materials handler has been supplied with a 6.5m straight boom and 4m sorting arm with a Prodem selector grab (800-litre capacity). The machine provides a maximum forward reach of 10m, a maximum height of 12m at the attachment pin and a 3.7-tonne lifting capacity at maximum reach across carriage with its outriggers down. 
Inside, the Volvo Care Cab offers a large roomy interior with plenty of leg room and foot space for the operator, with excellent all-round visibility enhanced by pressurized and filtered cab air supplied by a 14-vent climate-control system. An adjustable, easy-to-read LCD colour monitor provides real-time information on the machine functions. 
For increased productivity, the EW240E unit offers the operator the benefit of maximum visibility around the work area, thanks to the hydraulically raised and lowered cab that has a maximum elevation of 5.7m.  
Working in tandem with a Volvo L70H loading shovel and two ECR145E reduced swing excavators, the EW240E is helping to handle around 85,000 tonnes of waste materials a year at EWS' Exeter recycling facility, 95% of which is recycled.   
'We have a fairly unique site here at Hill Barton,' commented Mr Stuart. 'Besides our new recycling facility, we have the space for recycling aggregates, processing wood for biomass, green waste recycling and we even have an inert landfill area.'