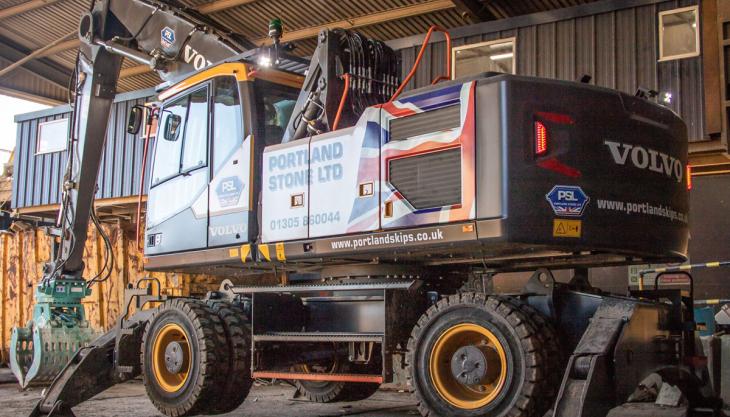 Portland Stone waste-recycling centre takes delivery of EW240E machine following successful demonstration
REPLACING a competitive model, a new Volvo EW240E material handler is currently hard at work at Portland Stone's Broadcroft waste and recycling centre, on the Isle of Portland, Dorset, handling incoming waste materials. 
'The machine had to meet our criteria for loading the main receiving hopper feeding a trommel and subsequent picking line, as well as loading skips destined for reuse and high-sided bulkers from standing in one position,' commented Danny Nash, managing director of Portland Stone.  
'We were pleasantly surprised at how well the machine performed in accomplishing all of its duties and, given the fact that we have had good reliability from our existing Volvo machines, we decided to opt for the EW240E.'
The newcomer joins an EC220E excavator (delivered in 2018) which is being used for civil and demolition contracts, and an L150G loading shovel and EC300E machine as part of a crushing and screening operation for the business. 
'All of our Volvos have proved to be very reliable and are appreciated by our operators,' said Aaron Lees, plant manager for Portland Stone. 'On top of that, we receive excellent support from SMT for servicing and parts so we know the new materials-handler will be well supported going forward.'
As with the existing machines in Portland Stone's fleet, the new EW240E unit will be covered by a Blue service agreement ensuring that it will be correctly maintained at regular intervals by Volvo trained service engineers using genuine Volvo parts.
Powered by a six-cylinder Volvo engine developing 171hp, the EW240E material handler offers the latest in engine technology and operating sophistication. For example, pump flow is controlled for combined equipment and slewing operations to reduce the flow loss through the overload relief valves, while maintaining lift capacity and maximum swing torque. When Eco-mode is selected, the machine offers better fuel economy without loss of performance in most operating conditions.
The EW240E has been supplied with a 6.5m straight boom and 4m sorting arm with a Dehaco selector grab (800-litre capacity). The materials-handler provides a maximum forward reach of 10m, a maximum height of 12m at the attachment pin and a 3.7-tonne lifting capacity at maximum reach across carriage with its outriggers down.
In addition to the machine's standard hammer/shear lines, an X3 rotation circuit is available to facilitate the use of a rotating selector grab.
The Volvo Care Cab offers excellent all-round visibility and a large roomy interior with plenty of leg room and foot space for the operator. Pressurized and filtered cab air is supplied by a 14-vent climate-control system. An adjustable, easy-to-read LCD colour monitor provides real-time information on the machine functions.
The EW240E offers the operator the benefit of maximum visibility around the work area, thanks to the hydraulically raised and lowered cab that has a maximum elevation of 5.7m.