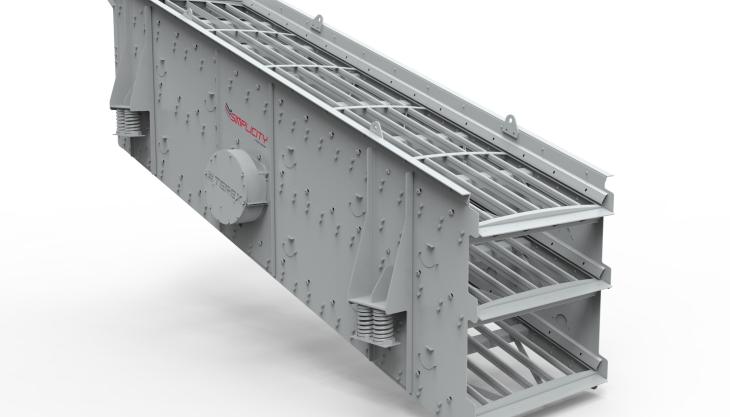 Terex Mineral Processing Systems launch versatile and reliable standard-incline (SI) screens
TEREX Minerals Processing Systems (MPS) have launched a new series of Simplicity Standard Incline (SI) screens designed for heavy-duty, medium and fine screening applications.
Built with a robust drive mechanism and oversized bearings to handle large tonnages and a wide variety of applications, SI screens can be utilized as wet or dry units. They feature adjustable stroke and speed combinations to fit a variety of applications and are available in two- or three-deck configurations.
'The SI screens are intelligently engineered to provide maximum value and long life,' said Terex MPS product manager Edwin Sauser. 'The screens are versatile, reliable and have features designed for easy maintenance, such as large spacing between decks, which also allows for quick media changes.'
The screens are fitted as standard with woven-wire media but can be converted into modular media with polyurethane, rubber media or steel plate without any cutting or welding.
The SI screens also have the option of operating with grease or oil lubrication, with an auto-lubrication system available with the grease option.
The side plates are made from hot-rolled semi-killed/killed (deoxidized) steel and the decks and reinforcement plates are Huck bolted to the plates. The robust tubular deck frames are made from hollow sections and fabricated structures. Abrasion-resistant liners are fitted to the feed tray and discharge lips, whilst the screenbox is of weld-free construction to reduce stress concentration.
The screen mechanism consists of a steel eccentric shaft mounted in self-aligning spherical roller bearings, specifically designed for longer bearing life in vibrating-screen applications. The stroke can be adjusted, as required, by changing the counterweights mounted on the flywheels.
The screens can be converted into rinsing units by the on-site addition of a rinser kit. The screens are also available with an optional dust-encapsulation arrangement.