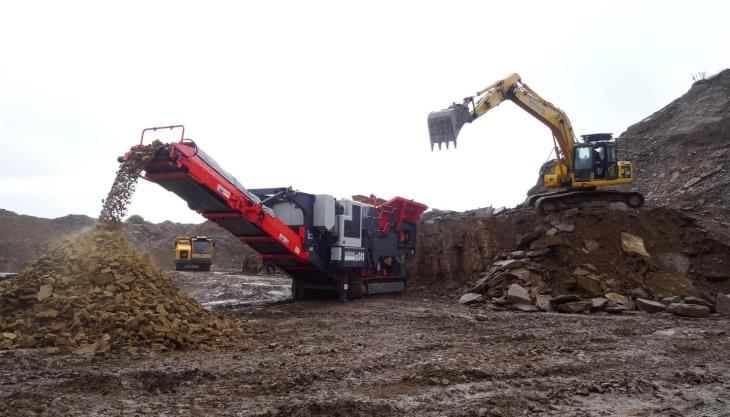 Newly enhanced tracked jaw crusher proves its worth in plant hire and contracting operations
BRADFORD-based R Bunton specialize in plant hire, groundworks, construction and excavation projects throughout the Yorkshire region both as the main contractor and as subcontractors.
One of the latest pieces of equipment to be acquired by the company, a QJ341 from Sandvik Construction, illustrates Buntons purchasing policy and ongoing commitment to providing highly productive plant that is able to deal with whatever may come its way.
The new QJ341 is one of the latest developments in an enhanced series of tracked jaw crushers that utilizes Sandvik's design and manufacturing expertise to provide a more refined unit that is even more robust and offers increased throughput.
Development of the QJ341 followed the enforcement of the combustion engine exhaust gas legislation in Europe and the US in January 2011. This led to the introduction of the new Stage 3B/Tier 4i engines, the dimensions of which, when combined with the after-treatment unit, resulted in the need for design changes to the power pack.
Faced with this design challenge, Sandvik used it as an opportunity to enhance the customer-focused features of the crusher too.
The QJ341 still possesses market-leading customer benefits such as: a 1,200mm x 750mm (48in  x 30in) feed opening; hydraulically adjustable CSS; high reduction ratios, crushing speed and productivity; reverse crushing action to relieve blockages; and an automatic central lubrication system.
In addition, however, the QJ341 now comes with new features that ensure continuous, uninterrupted crushing and greater operator safety. These include a load-control system for the feeder drive, a level sensor fitted to the jaw, and speed wheel fitted to the main conveyor. Another of the key design changes has seen the main conveyor fitted with a raise and lower facility for increased magnet clearance as well as ease of transportation.
Sandvik say the focus of the design changes is to provide the customer with reduced running costs and a lower carbon footprint, thereby ensuring a more environmentally friendly machine.
In addition to being a key part of Bunton's plant hire operations, the QJ341 has proved ideal for the company's contracting operations. The flexibility of the machine allows it to travel quickly from site to site, as the unit possesses hydraulically folding tail and side conveyors, a rigid one-piece hopper designed for quicker set-up times, and improved tail drum ground clearance for tracking.
The QJ341 has already proved itself on a variety of Bunton's projects, working for a wide cross-section of customers. The machine is currently being put through its paces on a major contract at Esholt where the work includes site clearance, tank demolition, remediation and excavations for a new waste water treatment works.