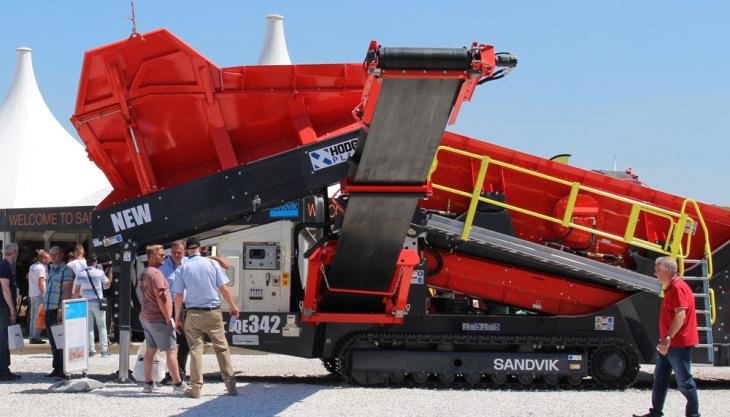 Latest heavy-duty machine comes with a host of new updates and features
AT Hillhead 2018 Sandvik Mobile Crushers and Screens unveiled a new addition to their long line of mobile screeners and scalpers – the QE342. An evolution of the leading QE341, the new scalper comes with a host of new updates and features, including a class-leading open scalping area for delivering higher rates of production.
The machine's design and attributes means that the production of even the most hard-wearing of materials is facilitated through a wear-resistant steel apron feeder, with huge stockpiling capability and over-wide conveyors that maximize delivery. 
Its new purpose-designed crusher style chassis has been specifically developed to accommodate new and more powerful, efficient engine power packs. Enhancing versatility, the QE342's wear-resistant rigid hopper is compatible for two-way or three-way split configurations, as well as having the ability to interchange side conveyors, demonstrating the flexibility of the machine.
For servicing, the screen-box jack up facility allows easy access to the bottom deck for maintenance and screen media changes. The machine has also been designed with user friendliness in mind; the new electrical control system, for example, incorporates several features to enhance both the operational effectiveness and safety.   
This simple, easy-to-use system features a key switch, a mode selector (set-up, operation and tracking) and a global plant button that provides sequential automatic start-up and automatic shutdown of the plant. 
A large visual display is also provided to enable the operator to view engine and plant status. Prestart warnings on all the scalper's functions ensure safety and ease of operation at all times. The QE342 also offers two-speed tracking and radio-control tracking as standard. 
Other new features of the scalper include: 
Larger and more spacious power packs to accommodate EU Stage 4, Stage 5 and Tier 4 Final emissions-compliant engines, with improved service access, hydraulics and lighting
Optional Cat C4.4 Stage 4/Tier 4 Final-compliant engine (130hp)
Redesigned chassis featuring two-speed tracking for faster relocation times between jobs
Lower engine operating speed at 1,800 rev/min to deliver lower fuel consumption and reduced noise
A variety of plant enhancements to improve set-up and teardown times
Hybrid drive option with electric plug to run in diesel or electric modes
Hydraulic fluid change interval extended from 2,000h to 4,000h, providing a 50% or more saving as well as delivering environmental benefits
Onboard My Fleet for live monitoring of plant, hours, location etc.
Galvanized walkways and access ladders. 
With a wide choice of screening media available, the QE342 mobile plant can be configured to match specific requirements and is able to cope with a huge range of materials and applications. These include: construction waste; landfill mining; quarry overburden; mine dumps; scalping before a crusher; and screening aggregates after a crusher.