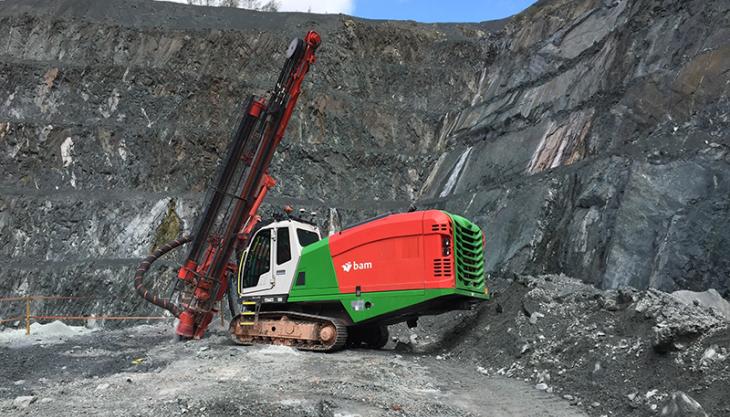 Company's contract drilling and blasting operations boosted by three new DI550 drill rigs
THREE new DI550 drill rigs from Sandvik Construction have given BAM Ritchies' UK drill and blast operation a major boost. The rigs will operate on a variety of rock types at a number of newly won quarry contracts throughout the north of England and Scotland.
The acquisition of the very latest in drill rig technology is vitally important to BAM Ritchies, as the company is now the largest drill and blast contractor in the UK, blasting over 40 million tonnes of rock in 2014.
Designed specifically for high-capacity rock drilling in large to medium-sized quarries, opencast mines and construction projects, the DI550 is the first of Sandvik's new-generation of down-the-hole (DTH) drill rigs.
The DI550 is completely self-contained with an on-board compressor, efficient dust suppression, and a comfortable cab with ergonomic controls and excellent visibility. With its 328kW diesel engine and 24.4 cubic metre airflow at 24-bar pressure, it is a perfect match for 4in and 5in DTH hammers, but can also perform efficiently and economically with 6in hammers.
In order for BAM Ritchies to get the most out of their investment, a training course on the DI550 was held in Doncaster for both BAM Ritchies and Sandvik personnel. This allowed the rig operators to familiarize themselves with the new machines, while at the same time developing close working relationships with the Sandvik personnel who will support the equipment in the field.
As part of this ongoing support, each drill rig received an on-site inspection from Sandvik before being put to work, with further support being delivered through an on-site service contract.