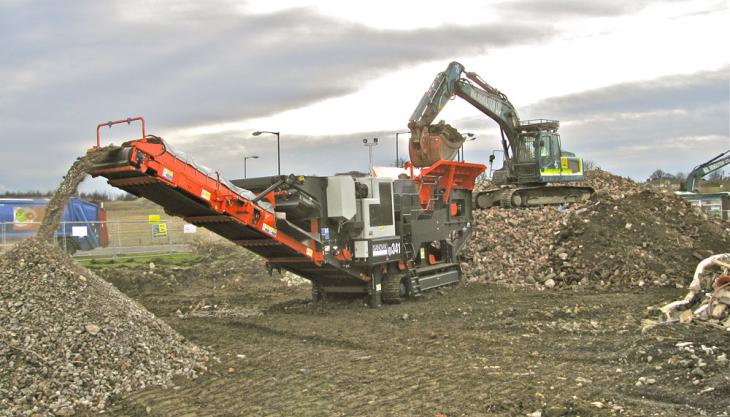 Specialist demolition and recycling firm adds Sandvik QJ341 tracked jaw crusher to its fleet
MGL Demolition, part of the MGL Group, are specialists in demolition, dismantling, licensed asbestos removal, land remediation and recycling, with operations across the UK. The business is supported by one of the most impressive fleets of modern demolition equipment in operation today, with the latest addition being a QJ341 tracked jaw crusher from Sandvik Construction.
'One of the distinct advantages of the QJ341 is that due to its inherent transportability from site to site, and manoeuvrability around the site, it is literally able to go direct to the material, and reduce it for reuse on site,' commented MGL Demolition's managing director, Mark Davison.
'This not only provides material for use straight away, but reduces haulage costs, as well as being environmentally sustainable.'
The new QJ341 is currently being used to crush –75mm demolition material on a variety of projects, wherever and whenever it is needed. The flexibility and productivity of the machine is ensured thanks to its 1,200mm x 750mm (48in x 30in) feed opening, hydraulically adjustable CSS, high reduction ratios, crushing speed and efficiency.
Moreover, the crusher possesses a reverse crushing action to relieve blockages, plus an automatic central lubrication system.
The QJ341 is the latest in a long line of state-of-the-art tracked jaw crushers from Sandvik Construction, and represents an upgrade of the leading QJ340 machine, following the enforcement of the combustion engine exhaust gas legislation in Europe and the US in January 2011, which led to the introduction of the new Stage 3B/Tier 4i engines.
In addition, MGL Demolition's QJ341 comes with other new features to ensure continuous, uninterrupted crushing and greater operator safety. These include a load control system for the feeder drive, level sensor fitted to the jaw, and speed wheel fitted to the main conveyor.
Another of the key design changes sees the main conveyor being fitted with a raise and lower facility for increased magnet clearance as well as with ease of transportation.
Commenting on the new features available on the QJ341, Mr Davison said: 'The focus of the Sandvik design changes allows us to enjoy lower running costs, a lower carbon footprint and increased productivity, which means we are operating a more environmentally friendly and efficient machine.'