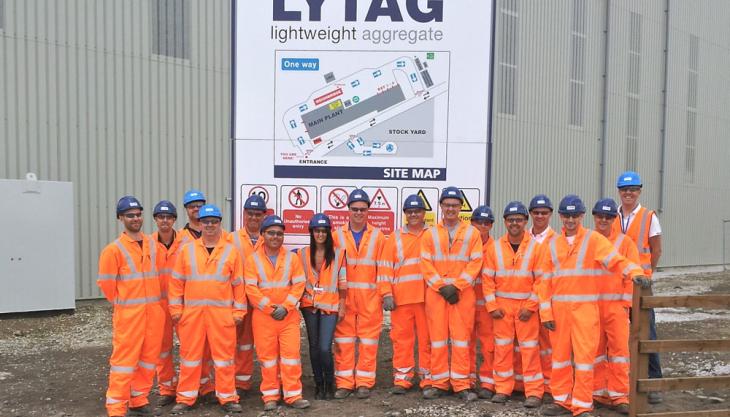 Lytag open new state-of-the-art lightweight aggregate manufacturing plant in North Yorkshire
A NEW state-of-the-art Lytag lightweight aggregate (LWA) manufacturing facility has opened within the site of Drax Power Station, in North Yorkshire, significantly increasing access to the material for project teams throughout the UK.
Gareth Moores, managing director of Lytag Ltd, commented: 'This new facility will bring immediate benefits to our clients. We are now able to provide high-quality consistent material to customer and project sites more quickly and efficiently than ever before, bringing time, cost and sustainability benefits for project teams, contractors and concrete product manufacturers.'
Lytag Ltd produce a lightweight, secondary aggregate using fly ash, a by-product of coal-fired power generation, which diverts the material from landfill into a secondary use and reduces demand on quarried aggregate.
The material is up to 50% lighter than traditional aggregate but has similar structural strength and can be used in a range of projects to meet engineering challenges, improve sustainability credentials and allow more flexible design.
It has been utilized in a number of applications in high-profile projects across the world, including in concrete floor slabs in the Shard, in screed at Heathrow Terminal 5 and as loose bulk fill at the London 2012 Aquatics centre.
Mr Moores continued: 'With the new plant now open, we are able to manufacture and arrange delivery of our materials to meet our customers' requirements more efficiently, bringing further benefits in terms of carbon emissions reductions, and adding to the natural sustainability credentials of Lytag LWA.'
Peter Emery, production director at Drax, commented: 'The opening of the new facility is a very positive milestone for the power station and the local community. The new plant will be important in helping us to ensure the re-use of fly ash produced by our electricity generation process and will mean more efficient use of our materials.'
Construction of the new manufacturing facility at Drax began in 2012 after consultation with the local community. The new plant will bring 20 new jobs to the local area.