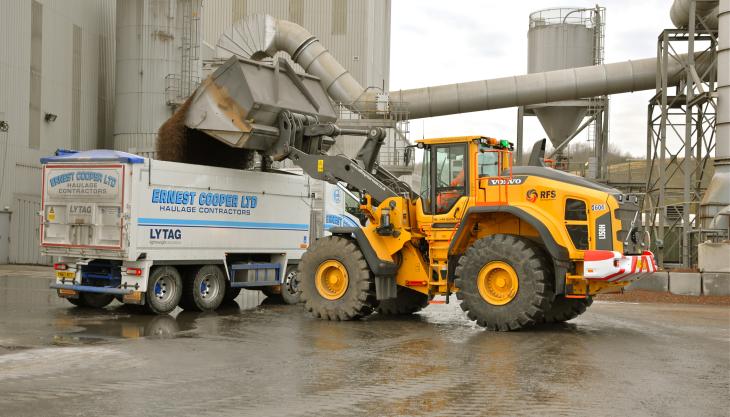 Two new machines deployed on long-term fly ash contract for Lytag at Drax power station
A VOLVO L120H loading shovel and a larger L150H model have been supplied to Rail Freight Services on a long-term contract for Lytag, handling pulverized fuel ash (fly ash) at Drax power station, near Selby, in Yorkshire.
Both machines are six months into the contract at the bespoke ash-processing plant. The 20-tonne L120H is deployed loading fly ash into the plant, where it is mixed with a binding agent, pelletized, then burnt at around 1,100ºC and separated into various sizes of product.
The 125-tonne L150H is in charge of the stockyard, unloading the bays of separated material, carrying to the stockyard and loading out on to road-going wagons. Between them, the two machines move around 3,000 tonnes of material each week.
As the raw material has a light material density of around 0.5 tonnes per cubic metre, both machines have been equipped with large-capacity, high-tip buckets of five and seven cubic metres respectively.
Powered by Stage-IV final Volvo 8- and 13-litre engines that develop 276hp in the L120H and 300hp in the L150H, both machines are coupled with Volvo-designed and manufactured powertrain components.
These, along with other fuel-saving devices, such as the Volvo Eco pedal and Optishift with torque converter lock-up found in the larger L150H, make them highly efficient and productive loading shovels in their size class.
Other options installed on both units include RDS Loadmaster weighing devices, Ogden VMS with automatic braking systems, boom suspension and hydraulic attachment brackets, allowing both machines to revert to standard general-purpose buckets if required.
Commenting on the recent purchase, Rail Freight Services' managing director, Jim Flatman, said: 'We have much experience operating Volvo products that have given us a high degree of reliability and longevity, so when we decided to purchase the right machines for this particular project, choosing the L120H and L150H with all the service support and backup we can rely on from SMT GB made perfect sense.'
The new machines have joined other Volvo excavators and loading shovels in Rail Freight Services' fleet of around 70 items of mobile plant. Based in Harlow, Essex, the company specializes in the loading and unloading of railway wagons and water-borne vessels, servicing a wide variety of contracts nationwide and operating within the constraints imposed by rail timetables and tide times.