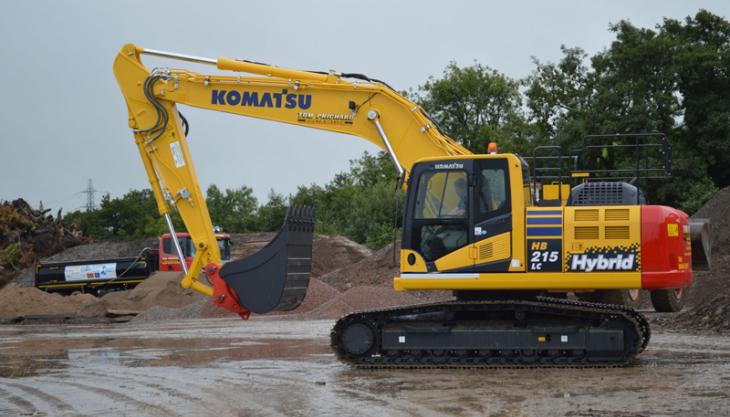 Tom Prichard Contracting bolster equipment fleet with HB215LC-2 hybrid excavator  
MID Glamorgan-based Tom Prichard Contracting have become one of the first contractors in Wales to take delivery of a new Komatsu HB215LC-2 hybrid excavator recently, adding to the 25-plus Komatsu machines already in their fleet.
In recent years, the company has diversified extensively and now offer a wide range of services, including: demolition; bulk earthworks; site clearance; ground remediation; recycling; and waste-management.
Explaining why Tom Prichard Contracting had opted for a Komatsu hybrid, Chris Goodfield, contracts manager, said: 'Our fuel usage on our own recycling plant was far too high. The way we were doing it before just wasn't feasible, it just ends up eating into our profits.'
Komatsu were, therefore, approached to come up with an eco-friendly solution and proposed a hybrid machine to Tom Prichard Contracting. 
A spokesperson for the Japanese equipment manufacturer explained: 'We had an excellent solution for Chris [Goodfield]. Hybrids are the moulding of hydraulic and electric power. We've already seen the eco-friendly switch from fuel to electric in the conventional car, but it's the fusion of hydraulic and electric machines that has given birth to a brand new breed of ecological and sustainable machinery. We've see on average 30% lower fuel consumption, compared to a standard PC210LC-8 excavator, and lesser carbon emissions, making it a greener machine.'
The HB215LC-2 hybrid joins Tom Prichard's ever-expanding Komatsu collection and Mr Goodfield is already looking forward to the potential cost-savings in the long-term. 'We'll be running the hybrid for around 10h a day or 60h a week,' he commented. 'Obviously, the cost-savings were an important issue for us and there is a definite need for us to be more sustainable. We're hoping for around a 40% cost- saving on the machine.'