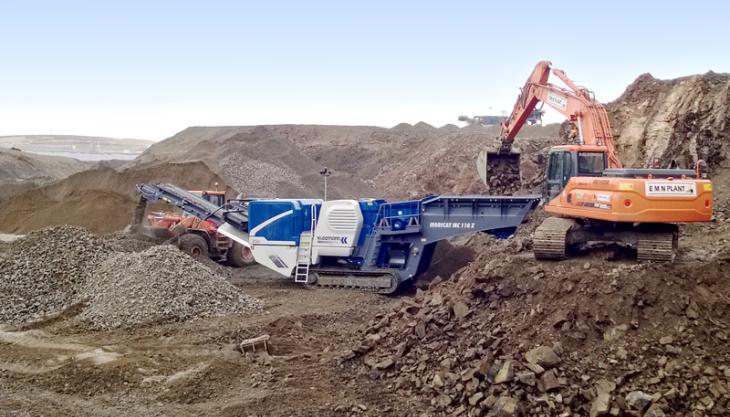 MC 110 Z EVO unit first choice for EMN Plant Ltd to meet ongoing need for crushed rock
THE Shetland Isles are currently experiencing an oil and gas boom, triggered by the development of gigantic gas fields 125km north-west of the islands. At Sullom Voe, the need for crushed stone is rising rapidly to support this economic growth.
The rock is required for laying pipelines, setting up a gas treatment plant, the construction of residential complexes for staff, and new roads, which is why Ellis Nicolson, operations manager and third-generation director of EMN Plant Ltd, decided to invest in a new jaw crusher. He chose the MC 110 Z EVO from Kleemann because he was impressed with the technology and enjoys a comprehensive service despite EMN Plant's location far away from the mainland.
Since November 2012, EMN Plant have been quarrying the hard and abrasive granodiorite which is predominant at Scatsta Quarry. After the opening of the quarry, EMN Plant immediately decided to use a Kleemann crusher and rented an MC 110 Z.
'We used this jaw crusher for roughly one year and were quickly convinced of the performance and product quality. During this time we crushed approximately 180,000 tonnes of stone,' said Mr Nicolson.
With the likelihood of an ongoing need for crushed stone, in the middle of 2013 EMN Plant decided to purchase their own jaw crusher, to crush as-blasted stone with a feed size up to 1,000mm down to a cubic-shaped grains of 100mm. Additionally, if required, the crusher would need to be able to crush recycled concrete.
Following intensive research EMN Plant chose the new Kleemann MC 110 Z EVO jaw crusher, the successor model to the company's previous rental equipment. The new machine has been in use at Scatsta Quarry since October 2013, achieving a throughput of 1,600–1,800 tonnes in a normal 10-hour shift.
EMN Plant say they are extremely satisfied with this performance, which is delivered by the crusher's 248kW diesel engine. The crusher is directly driven via a fluid coupling, which is characterized by particularly high operational reliability. Together with the electric drives for the pre-screen, vibrating chutes and belts, the plant is said to be extremely efficient.
Ellis Nicolson commented: 'The crusher requires roughly 300 litres of diesel per 20 hours worked. This is significantly less than the predecessor model and gives an unrivalled fuel economy.'
The independent double-deck pre-screen, a feature of the Z Model, has also been tried and tested. It ensures effective screening of the fine parts in the feed material. 'Our stone has a high level of fine grains, which is why we were looking for a plant with good preliminary screening,' explained quarry manager Craig Dickie. 'Kleemann provided an excellent solution with the MC 110 Z EVO.'
Continuous operation of the crusher is also particularly important for EMN Plant. Kleemann achieve this with their continuous feed system (CFS). The feed control continuously adapts the frequencies of the feeder trough and grizzly, thus guaranteeing a continuous flow of material to choke the jaw. As a result, production capacity is increased considerably thanks to the optimal utilization of the crusher.
The Shetlanders also benefit from another advantage in the extended-swing crusher jaw. This prevents blockages of oversized material and protects the securing elements of the crusher jaw against wear. Last but not least, they also benefit from full hydraulic adjustment, which allows the jaw to be opened and closed at the touch of button whilst in use or during set up to minimize downtime.
Despite the many technological benefits, Ellis Nicolson and Craig Dickie hesitated slightly before purchasing the new crushing plant; the reasons being that Shetland is a long way from the mainland and transportation of the machine at first seemed costly and complex, and spare parts deliveries could be expensive. Also, what would happen if their own team was unable to fix a problem? However, Rob Coward, sales manager for Kleemann crushers in Scotland, quickly dispelled all these doubts.
As proof, delivery of the new plant was completed in record time. Just five days after the order was placed, the brand new crusher was in Scatsta Quarry, having been delivered from Göppingen to Rotterdam to Aberdeen, and from there by overnight ferry to Shetland. A package of select wear and spare parts was also on board, and these parts are now in a warehouse and available straight away if required.
'It could not be any more convenient,' enthused Mr Nicolson. He added that the rest of the service package from Wirtgen Ltd, the Kleemann subsidiary in the UK, was also impressive: 'We had two employees of EMN Plant trained in Lincoln so that they know everything that is important for the operation and maintenance of the plant. We also use the telemaintenance option via GSM.'
'And in the event of an emergency, our service technician from Aberdeen can be on site within 24 hours,' explained Rob Coward. 'EMN Plant are very satisfied with the Kleemann technology and the excellent service of Wirtgen Ltd. They are experiencing day in, day out that the motto of the Wirtgen Group, 'Close to our customers', is a real advantage.'